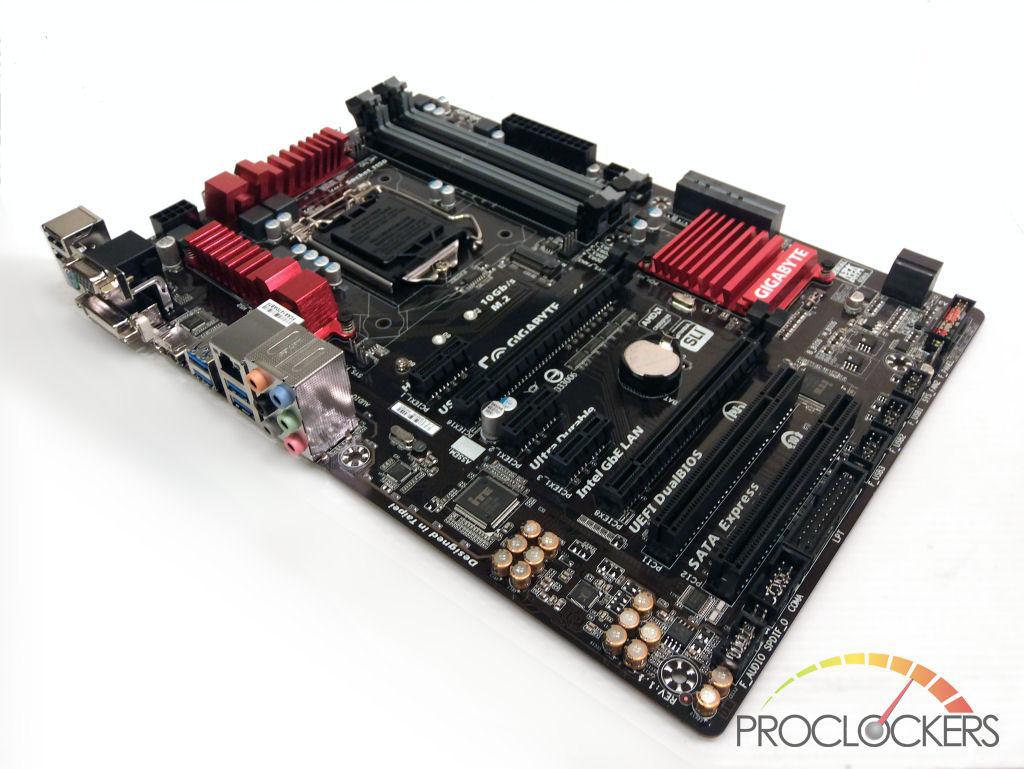 Introduction
With the release of the Z97 and X99 chipsets, Gigabyte has decided to cosmetically overhaul the Ultra Durable series. Today we will be taking a look at one of the lesser priced models, Z97X-SLI. Based around the ATX, it may be smaller than its ATX counterparts, but certainly does not lack their features.
Gigabyte has revised their UEFI DualBIOS this generation, which has exclusive Gigabyte OC features. There is also an application center that allows quite a bit of control over the BIOS, overclocking, gaming control, and other various features from inside the Windows environment. If that was not enough, Gigabyte has also added a new feature called Cloud Station, which allows that control from a smart phone as well.
Gigabyte has not been remiss on the hardware side either. The Z97X-SLI supports 4th Generation Intel Core processors. There is up to 2-way AMD CrossFire and Nvidia SLI support. A precise digital CPU power design helps squeeze out those Mhz from your CPU. A SATA Express offer support for 10 Gb/s data transfers. On the networking side, Intel I218V Gigabit LAN does the duties. Realtek ALC1150 115dB SNR HD Audio with Built-in rear audio amplifier supplies your audio needs.
Gigabyte's take on the GA-Z97X-SLI
GIGABYTE 9 Series Motherboards
GIGABYTE 9 Series motherboards support the latest 4th & 5th Generation Intel® Core™ processors, bringing together a unique blend of features and technologies that offer the absolute ultimate platform for your next PC build.
Extreme Multi-GPU Support
Flexible graphics capabilities supported for either CrossFire™ or SLI™ action, delivering the ultimate in graphics performance for gaming enthusiasts who demand the highest frame rates without compromising on resolution.
M.2 Onboard Connector
GIGABYTE 9 series motherboards come equipped with an onboard M.2 slot, providing users PCI-Express connectivity for SSD devices. Delivering up to 10 Gb/s data transfer speeds, M.2 offers users considerably faster storage performance than current mSATA and even SATA Revision 3 (6Gb/s) storage devices.
SATA Express Connector
SATA Express interface provides multiple PCI Express lanes and 2 SATA 3.0 6 Gb/s ports, exposed through the same connector, allowing use of both PCI Express and SATA storage devices. Exposed PCI Express lanes are providing a pure PCI Express connection to the storage device, without any additional layers of abstraction.
Intel® Gigabit LAN
Intel® Gigabit LAN networking, a popular choice with gamers that features several performance-enhancing features such as advanced interrupt handling to help reduce CPU overhead and Jumbo Frame support for extra large data packets.
cFosSpeed
GIGABYTE motherboards feature cFos Speed, a network traffic management application which helps to improve network latency, maintaining low ping times to deliver better responsiveness in a crowded LAN environment. cFos Speed works in a similar way to an OS driver, monitoring network traffic packets at the application layer, allowing optimization and improved network performance for specific applications.
Realtek ALC1150 115dB SNR HD Audio
The ALC1150 is a high-performance multi-channel High Definition Audio Codec that delivers an exceptional audio listening experience with up to 115dB SNR, ensuring users get the best possible audio quality from their PC.
The ALC1150 provides ten DAC channels that simultaneously support 7.1-channel sound playback, plus 2 channels of independent stereo sound output (multiple streaming) through the front panel stereo outputs. Two stereo ADCs are integrated and can support a microphone array with Acoustic Echo Cancellation (AEC), Beam Forming (BF), and Noise Suppression (NS) technologies. The ALC1150 incorporates Realtek proprietary converter technology to achieve Front differential output 115dB Signal-to-Noise ratio (SNR) playback (DAC) quality and 104dB SNR recording (ADC) quality.
Built-in Rear Audio Amplifier
Specially designed for gamers, GIGABYTE 9 series Ultra Durable™ motherboards utilize a high-capacity amplifier which is able to drive 600Ω loads, giving gamers a fuller range of dynamic sound with crisper details and less distortion when using high quality professional headphones.
APP Center
GIGABYTE APP Center gives you easy access to wealth of GIGABYTE apps that help you get the most from your GIGABYTE motherboard. Using a simple, unified user interface, GIGABYTE APP Center allows you to launch all GIGABYTE apps installed on your system.
EasyTune™
Smart Quick Boost provides users with different levels of CPU frequencies to choose to achieve desired system performance.
Advanced CPU OC allows users to set CPU base clock, frequency, and voltages, and integrated graphics frequency.
Advanced DDR OC allows users to set the memory clock.
3D Power allows users to change power phase, voltage, and frequency settings.
Cloud Station™
GIGABYTE Cloud Station™ is composed of several GIGABYTE unique apps that allow your smart phones/tablet devices to communicate, share resources, and control desktop PCs via wireless connection.
HomeCloud
HomeCloud allows users to share the files between your smart phone/tablet device and computer or back up the files from the device to the computer.
HotSpot
HotSpot turns your computer into a virtual wireless access point and allows you to share your connection with your other wireless devices.
GIGABYTE Remote
GIGABYTE Remote allows users to remotely control the mouse / keyboard / Windows Media Player on your computer from your smart phone/tablet device.
Remote OC
Remote OC allows users to remotely control their desktop PC with a powerful suite of software functions that Include overclocking and system tweaking, system monitoring plus the ability to also remotely power down/reset the PC when needed.
That is certainly a long list of features, which we will explore later.  Let us take a look at the product specifications and packaging next.