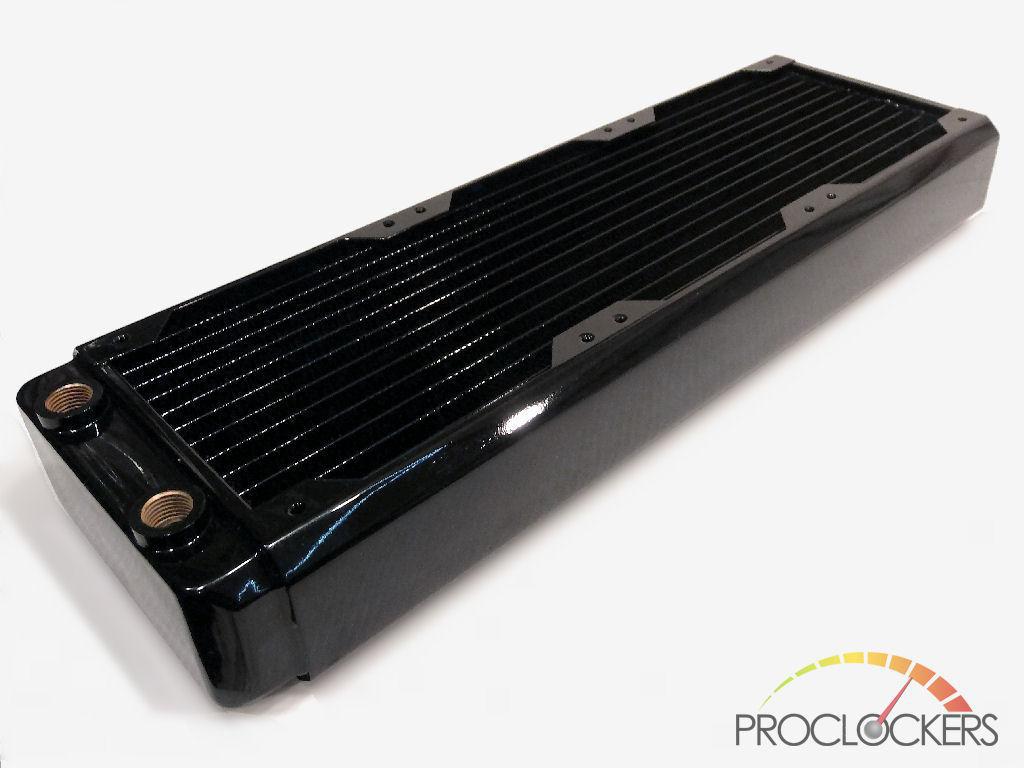 Introduction
Hardware Labs Performance Systems, Inc., is a pioneer in the computer watercooling industry. HWLabs was the first company to develop and manufacture the first radiators specifically designed for PC watercooling and is still the de facto benchmark in the business.
Their core philosophy remains to be the relentless pursuit of performance in the heat exchange industry, pushing the limits of design and engineering to provide our fellow enthusiasts and the industry with class-leading products and services.
Today we are taking a look at one of Hardware Labs older products, Black Ice GTX Gen Two Xtreme 360. The Black Ice GTX Gen Two Xtreme is a continuation of the original GTX line. Featuring a massive 54mm thickness and a high gloss black finish, that set it apart from the crowded radiator market.
Hardware Labs' take on the Black Ice GTX Gen Two Xtreme 360
The all new Black Ice® GTX platform possesses twice the waterside surface area of the Black Ice GTS and features a unique front to rear coolant flow dual-core configuration, This design innovation maximizes heat transfer and increases internal flow rates by as much as 30%.
Moreover, the Black Ice® GTX also features an optimized iteration of the high flow next generation MaxFin® 25 micron splitter-fin design allowing for maximum fin surface area while minimizing air pressure drop. At 20 fins per inch, the Black Ice GTX is engineered for use with low-speed/low-noise fans providing optimal cooling and comfort.
The Black Ice® GTX radiators are available in single 120mm fan GTX120, dual fan GTX240, triple fan GTX360, and in the monolithic quad-fan GTX480 configurations.
Features:
Two-pass pre-cool/aftercool front-rear dual-core flow configuration with a 30% increase in internal flow rates.
Custom MaxFin 25 micron Copper Splitter Fin Configuration utilizing 45% thinner fin material yielding up to 50% less pressure drop.
Unique fin configuration eliminates intra-louver accumulation of dust particles for trouble free operation.
Radically optimized 20 FPI (Fins Per Inch) fin density providing dramatically increased heat transfer surface area.
Custom low-profile 2-row 19.0 x 1.2mm MaxFlow tubes with twice the waterside surface area of the GTS and 60% frontal area reduction for superior low air-resistance aerodynamics and lower internal flow requirements.
Yields up to 45% more heat exchange capacity than the Black Ice® Xtreme in both Stealth or Performance modes.
Achieves Black Ice® Xtreme level performance in stealth mode (low-noise/low-airflow conditions).
M4 Threaded Screw Holes for easier mounting and greater adaptability.
Now standard G 1/4″ female threaded fittings.
Full high-temper brass structural construction for weight reduction and superior corrosion resistance.
High performance compact radiator compatible as an upgrade to the Black Ice® Xtreme and most 120mm form factor radiators.
Uses 100% Non-corrosive water-soluble fluxing process.
Fully RoHS compliant.
Full electrostatic polyurethane painting finish for uniform coating with high temperature curing for increased finish durability.
Renowned Black Ice® quality.
Patent Pending Design.
Let's take a closer look on the next page.