Features & Specifications
HyperX HX432C16FB3AK4/32 is a kit of four 1G x 64-bit (8GB) DDR4-3200 CL16 SDRAM (Synchronous DRAM) 1Rx8, memory module, based on eight 1G x 8-bit FBGA components per module. Each module kit supports Intel® Extreme Memory Profiles (Intel® XMP) 2.0. Total kit capacity is 32GB. Each module has been tested to run at DDR4-3200 at a low latency timing of 16-18-18 at 1.35V. The SPDs are programmed to JEDEC standard latency DDR4-2400 timing of 17-17-17 at 1.2V. Each 288-pin DIMM uses gold contact fingers.

Customizable RGB lighting with aggressive styling
Give your battle station a stylish upgrade thanks to FURY DDR4 RGB's updated heat spreader and customizable smooth, stunning RGB effects. Use the powerful HyperX NGENUITY software or motherboard manufacturer's software to create your own look.

HyperX Infrared Sync Technology
RGB effects stay synced thanks to HyperX's patent-pending infrared sync technology.

Intel XMP-Ready
Our engineers have predefined Intel Extreme Memory Profiles designed to maximize the performance of our memory modules, reaching speeds up to 3466MHz.

Plug N Play – Automatic overclocking up to 2666MHz
A simple and easy Plug N Play upgrade, HyperX FURY DDR4 will auto-overclock itself to the highest listed speed allowed by the system BIOS.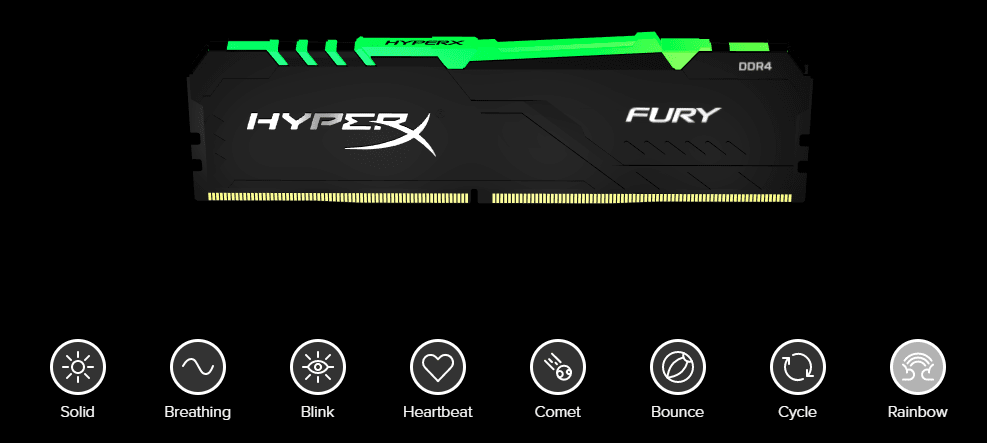 Specifications:
FEATURES
Power Supply: VDD = 1.2V Typical
VDDQ = 1.2V Typical
VPP = 2.5V Typical
VDDSPD = 2.2V to 3.6V
On-Die termination (ODT)
16 internal banks; 4 groups of 4 banks each
Bi-Directional Differential Data Strobe
8 bit pre-fetch
Burst Length (BL) switch on-the-fly BL8 or BC4(Burst Chop)
Height 1.624" (41.24mm), w/heatsink
FACTORY TIMING PARAMETERS
Default (JEDEC): DDR4-2400 CL17-17-17 @1.2V
XMP Profile #1: DDR4-3200 CL16-18-18 @1.35V
XMP Profile #2: DDR4-3000 CL15-17-17 @1.35V