Features & Specifications

Because M.2 SSDs are not designed to be hot-swapped, their connectors are very delicate, typically rated for only 250 insertion/removal cycles. When used with the EZConvert MB703M2P-B, M.2 SATA SSDs can be hot-swapped without putting any wear on the internal connector, instead using ICY DOCK's strong hot-swap connector rated for 10,000 insertions/removal cycles. Hot-swap makes it easy to add, remove, and replace drives without the need to restart the system.
The 1-piece lid has a sturdy EZ-press latch, to stand up to frequent drive swaps. Simply press the latch in to open the lid, revealing the drive bay for easy installation, removal, or drive replacement.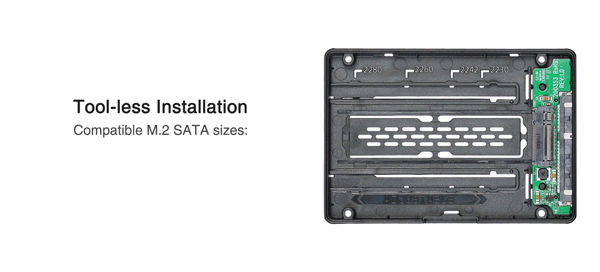 The adjustable M.2 locker slides to accommodate all standard M.2 SATA SSD lengths, including 2230 (30mm), 2242 (42mm), 2260 (60mm), and 2280 (80mm). The locker clips into the SSDs screw hole to secure the drive without the need for screws or tools.
Because the MB703M2P-B uses the standardized 2.5″ form factor, it can be installed into any 2.5″ backplane or hot-swap bay that supports 9.5mm to 15mm height drives, such as our flexiDOCK, ExpressCage, or several ToughArmor models. This lets you expand the capabilities of your existing 2.5″ devices by adding M.2 SATA SSD support to them.
ICY DOCK's EZConvert MB703M2P-B not only allows you to convert M.2 SATA drives into a 2.5″ drive form factor but also, when used in combination with an aftermarket SATA to USB 3.1 adapter cable or docking station, you can easily convert the MB703M2P-B into an external M.2 SATA drive to access your data anywhere at any time.
MB703M2P-B's body and lid each use a 1-piece design, constructed from a single piece of strong ABS plastic, to strengthen the enclosure and give your drive a physical layer of protection against drops and bumps. One-piece construction is preferred over multiple pieces, as the connection between two pieces creates a weak point that is prone to failure.
The lid and body have ventilation holes amply placed throughout the enclosure, working with your computer's cooling system to cool the drive and protect it from overheating damage, which can lead to data loss.
ICY DOCK's EZConvert MB703M2P-B was specifically designed to provide maximum cooling efficiency to prevent speed throttling on SATA M.2 drives. Air vent holes sit right underneath the SATA M.2 drive, giving the drive enough airflow while doing intensive reads and writes. Moreover, to allow more air circulation, these air venting holes can be removed physically to reveal a cutout, allowing users to install M.2 drive heatsinks or simply leave it open for an increased cooling effect.
The MB703M2P-B supports the full SATA III bandwidth specifications of up to 6Gbps, letting you take full advantage of the fastest M.2 SATA SSDs available.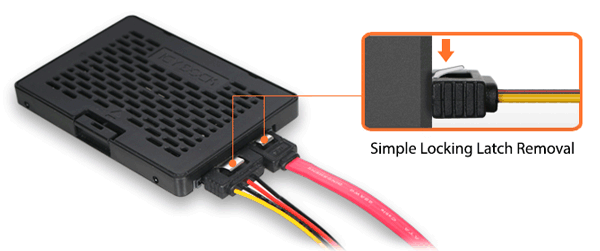 EZConvert supports SATA data and power cables with locking latch designs, so you'll never need to worry about cables unintentionally disconnecting from your enclosure. Once these cables are connected, they'll lock into place and stay that way.