Testing the KC2500 M.2 NVMe SSD

Testing was completed with the following hardware:
Custom built PC
ASROCK Radeon RX 5500XT
Crucial BX500 240GB Internal SSD
Windows 10 operating system

Testing software:

Crystal Disk Mark (CDM) – An open-source disk drive benchmark tool for Microsoft Windows. Based on Microsoft's MIT-licensed Diskspd tool, this graphical benchmark is commonly used for testing the performance of solid-state storage. It works by reading and writing through the filesystem in a volume-dependent way.
Anvil Storage Utilities (ASU) – Anvils Storage Utilities is a freeware SSD benchmarking application: Endurance and benchmark testing tool for analyzing the performance of both solid-state and traditional hard disk drives. ASU test throughput as well as IOPS and Disk Access Times. It features a preset SSD benchmark and is also capable of performing endurance testing and threaded I/O read, write, and mixed tests.
ATTO Disk Benchmark (ATTO) – Is a robust hard disk and solid-state storage benchmarking tool. Several options are available to customize your performance measurement including queue depth, overlapped I/O, and even a comparison mode with the option to run continuously. ATTO Disk Benchmark can be used to test any RAID controller, storage controllers, host adapters, hard drives, and SSD drives, or another solid-state storage medium that interfaces as a drive in your system.
Testing results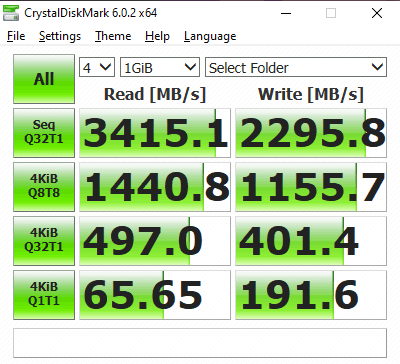 The Kingston KC2500 1TB managed 3415.1MB/s read, and 2295.8MB/s write on the SEQ1M Q8T1 test which simulates 8 sequential operations at once utilizing a single thread. This simulates moving large files such as photos or videos from the card to a PC, saving a burst of photos from your DSLR to the card or writing a continuous video file to the card.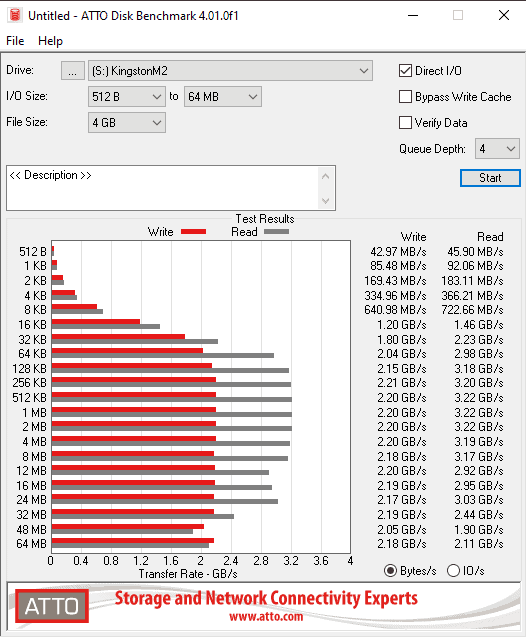 When testing using Anvil's Storage Utilities, we find very similar numbers to those that we found when benchmarking with Crystal Disk Mark. Sequential 4MB file operations averaged to 2834.6MB/s while sequential write operations averaged to 1783.2MB/s.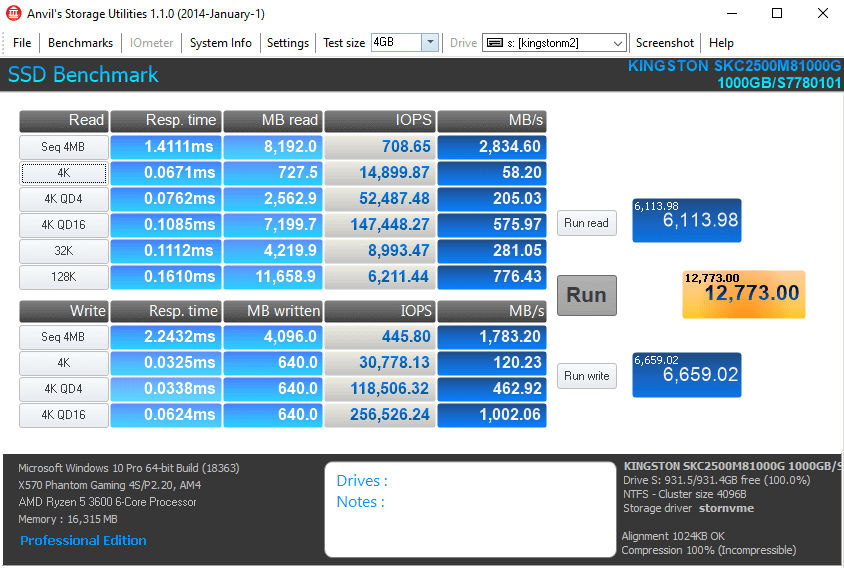 The results from ATTO were within the same range of the previous two tests with 4MB sequential read speeds averaging out to 2.2GB/s and write speeds averaged to 3.19GB/s.