System Configuration & Software
The following hardware was used to benchmark the MSI RTX 2060 Gaming Z:
Gigabyte Z390 AORUS Pro Motherboard
Intel 9900K Processor @ Stock
2 x 8GB Team Group Vulcan TUF Ram @ 3200MHz
Crucial P1000 M.2 NVMe
Cooler Master ML240P Mirage AIO Cooler
Corsair HX750 PSU
Open Benchtable
Microsoft Windows 10
The motherboard's BIOS has been reset to default settings with the exception of enabling XMP of our ram.
MSI Afterburner
"The world's most recognized and widely used graphics card overclocking utility which gives you full control of your graphics cards. It provides an incredibly detailed overview of your hardware and comes with some additional features such as customizing fan profiles, benchmarking and video recording. MSI Afterburner is available completely free of charge and can be used with graphics cards from all brands."
MSI Afterburner allows you to get the absolute most out of your GPU by giving you the ability to increase the voltage, power limit, core clock, memory clock and fan speed of your card. We will provide more details about the inner workings of Afterburner in the Overclocking section.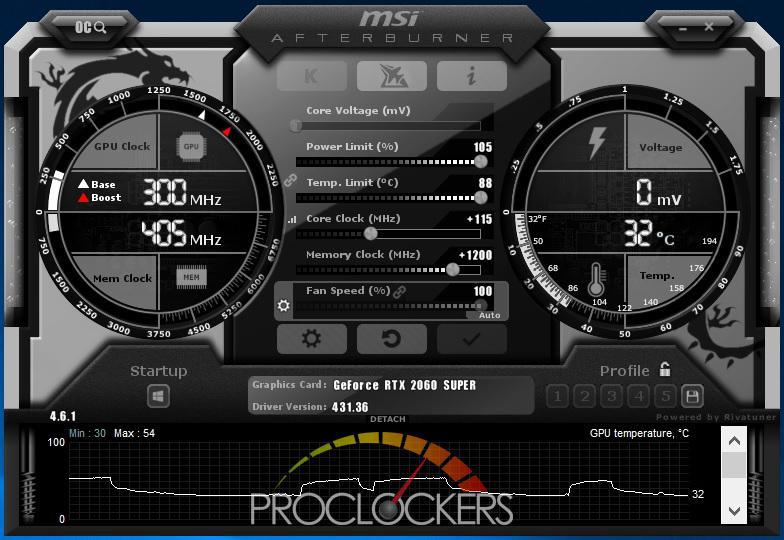 Dragon Center
Dragon Center helps to optimize all you need for smooth gaming by allowing you to optimize many aspects of the RTX 2060 Super Gaming X. You can adjust various settings of your GPU, Monitor, and LAN using the Performance, EyeRest, and LAN Manager buttons.
If you wish for Dragon Center to automatically optimize all these settings, you may press the "G" button on the left-hand side. Once pressed, it will go through and optimize your system, monitor, GPU OC, and Zero Frozr settings.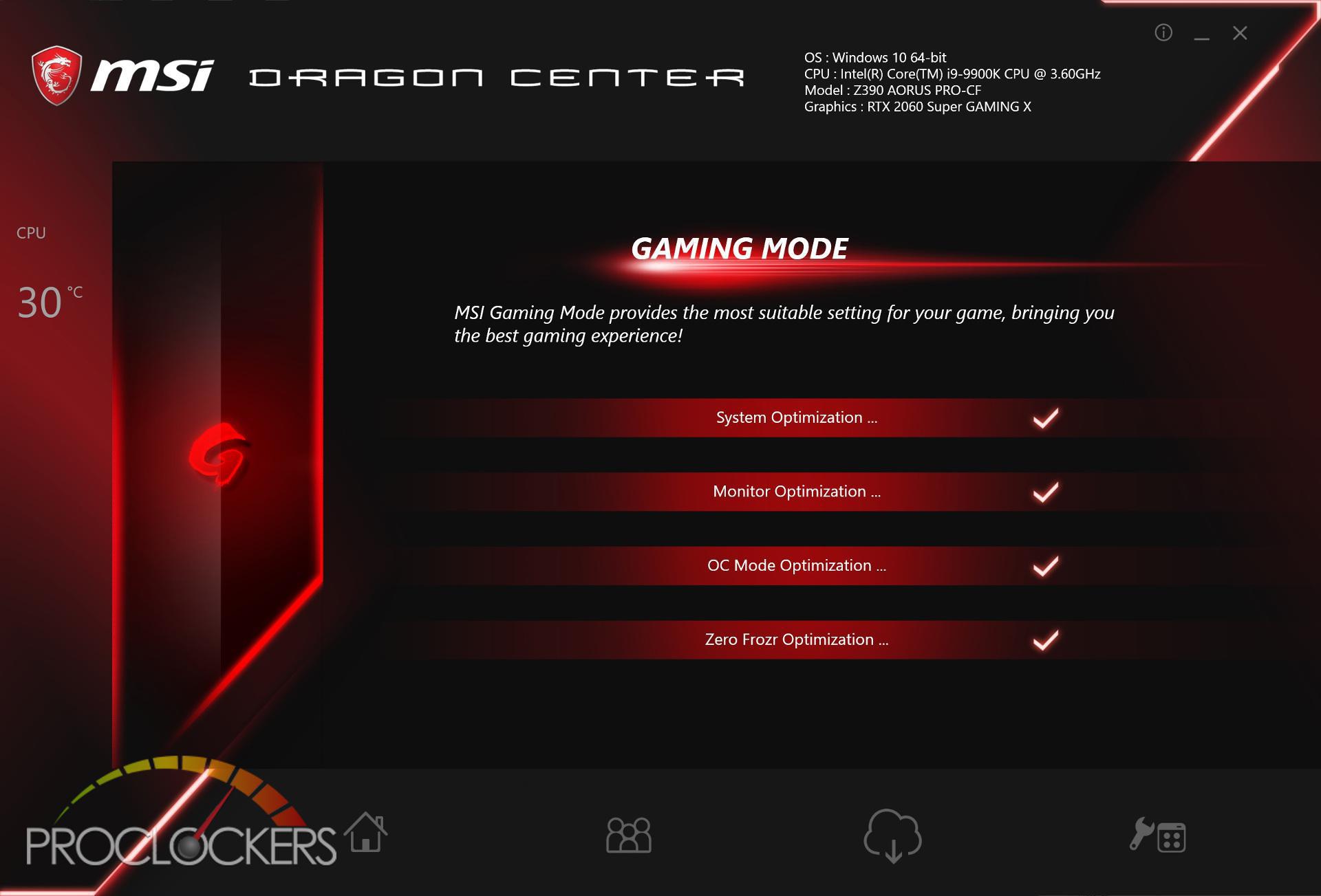 To adjust the clock rate of the Gaming X within Dragon Center, you can do so by clicking the "Performance" button. You can choose use one of the two predefined profiles or configure a custom profile.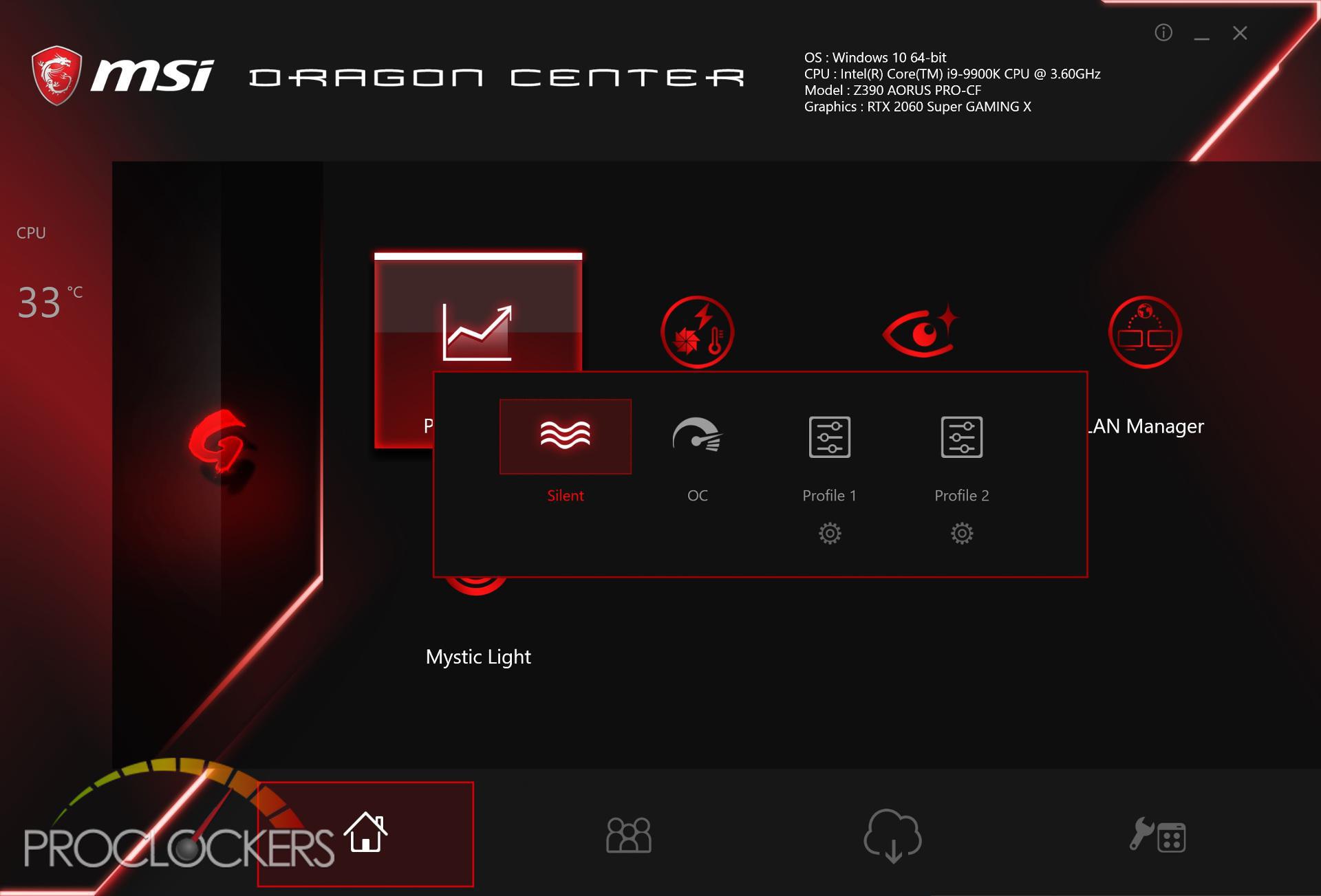 When configuring a performance profile, you have the ability to adjust both the core and memory frequency of the GPU.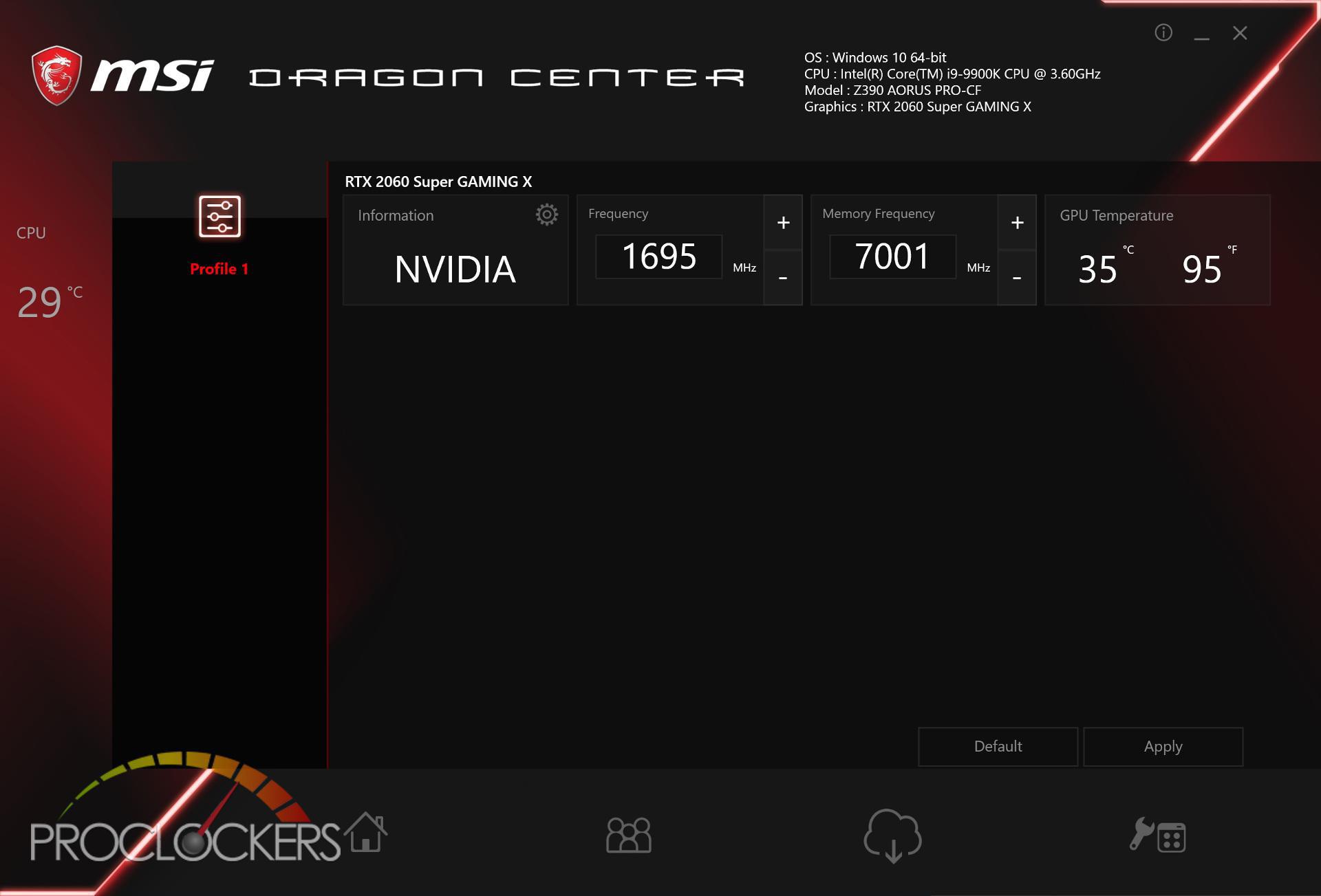 Using the Hardware Monitor, it gives you the ability to monitor many aspects of the RTX 2060 Super Gaming X. Some of these include GPU frequency, GPU memory frequency, GPU usage, and GPU temperature.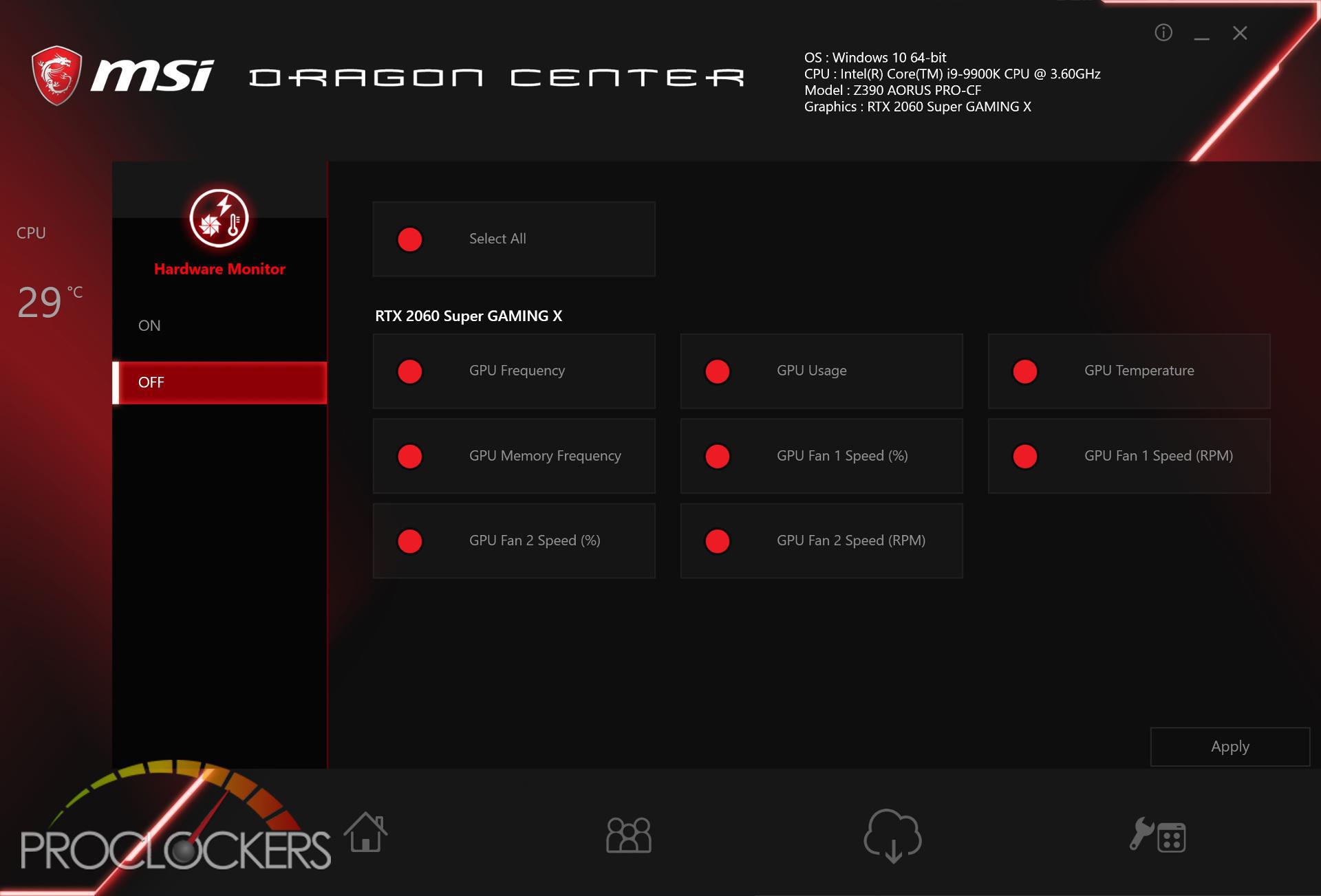 To display the selected attributes, just turn on the hardware monitor from the left menu.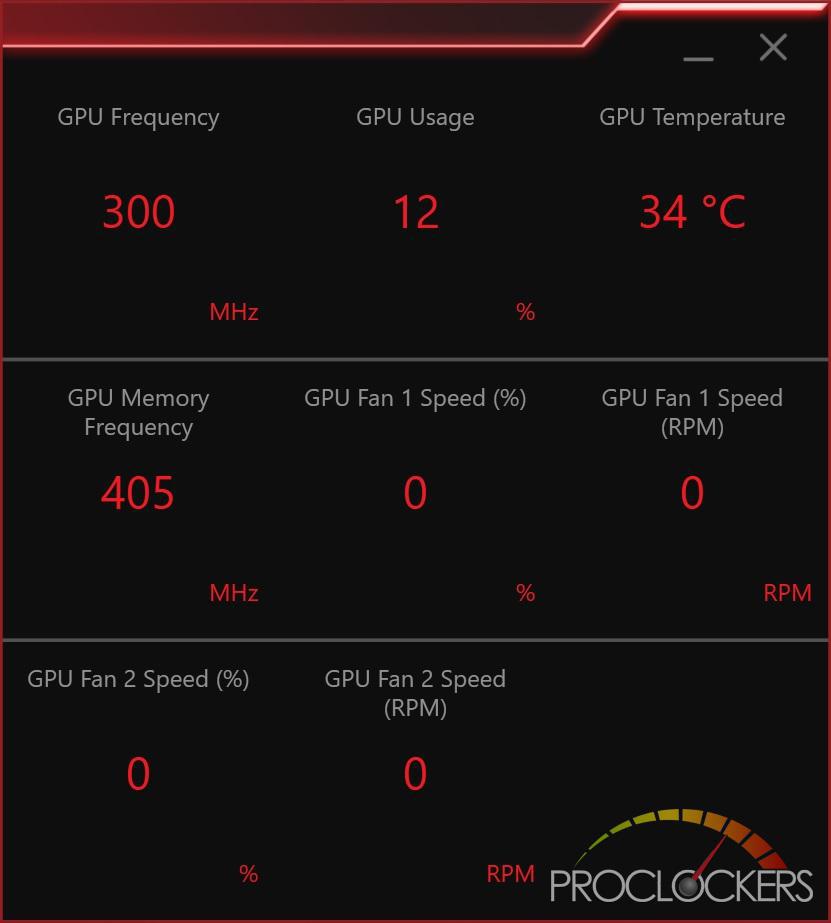 EyeRest allows you to adjust your monitor with one of 3 presets which include EyeRest, Game, and Movie. By using the Customize option, you can manually adjust the Gamma, Level, Brightness, and Contrast of all colors to match your preference.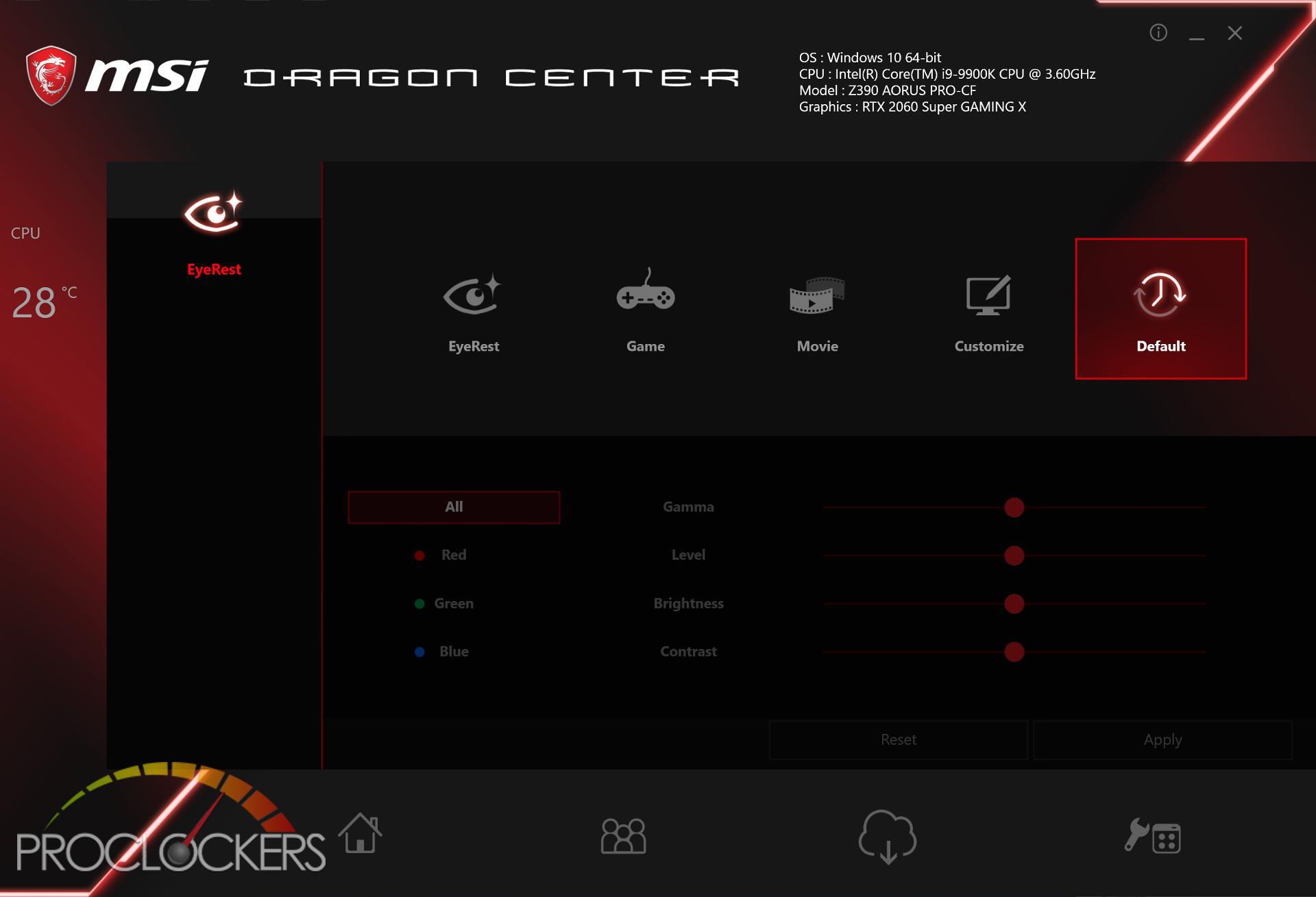 Using the LAN Manager, you can prioritize the bandwidth of certain applications to maximize your experience.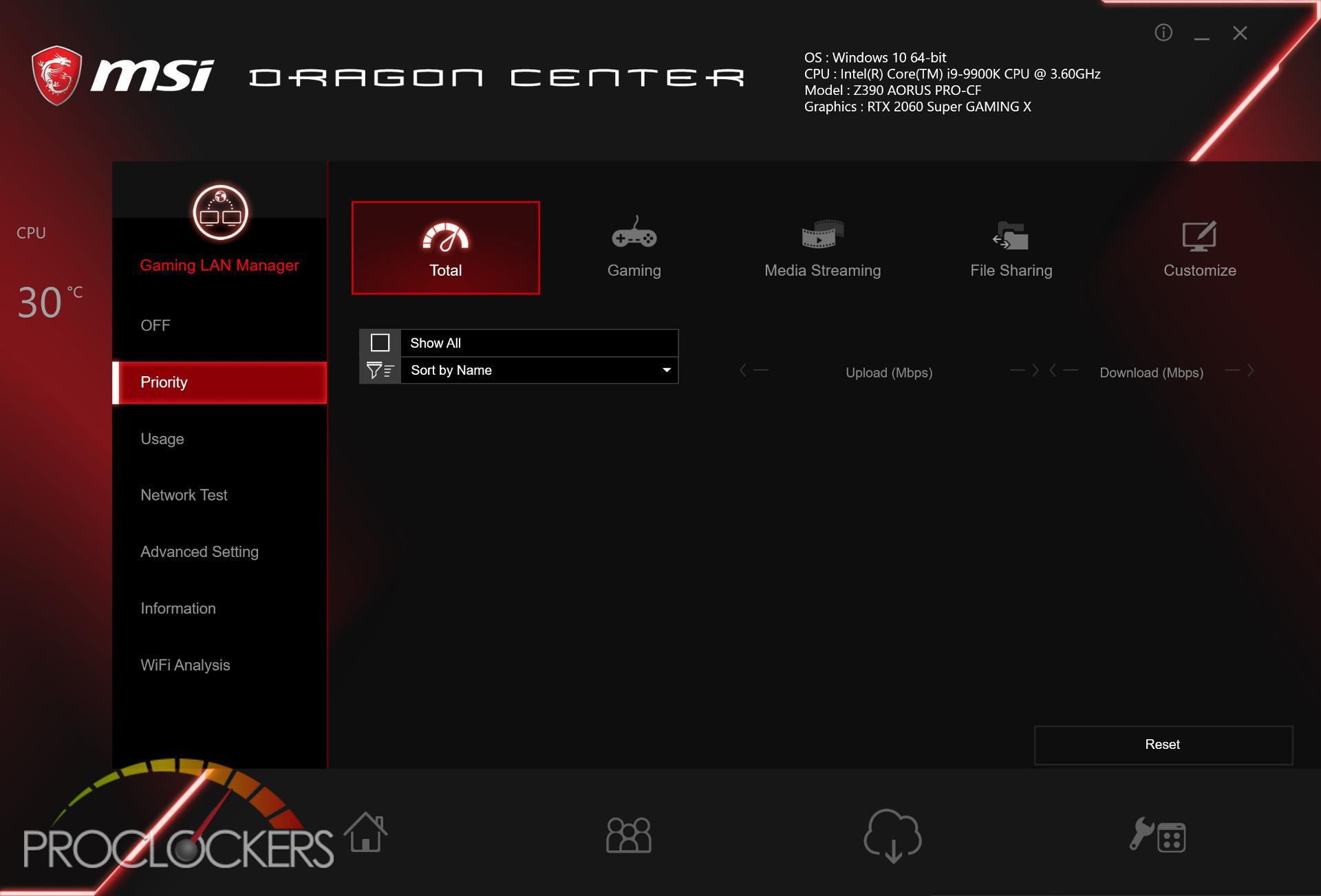 The next item on the home menu is "Mystic Light", which allows you to adjust the lighting profile of the RTX 2060 Super Gaming X. Mystic Light comes with a variety of predefined effects which include:
Rainbow – Cycling through all colors blending them across RGB zones
Flowing – Flowing through all RGB zones with random colors
Magic – Cycling colors blending them as they change
Patrolling – Single color going up and down each LED
Rain Drop – Randomly turning on LEDs with a random color
Lightning – Lightning type pattern one each RGB zone changing colors each cycle
Marquee – Marquee type effect going across RGB zone and then back
Meteor – Like Marquee but only in one direction
Stack – Cycling through the LEDs and stopping at the last empty one and resets when full.
Dance – Color slowly turning on all the LEDs then turning them off in reverse
Rhythm – Like dance but resets once they are all turned on
Whirling – All lit except for a section moving up and down the LEDs
Twisting – All lit except for two sections moving up and down the LEDs in different directions
Fade-in – Color fading in and out
Crossing – Color cycling through the LEDs in a cross pattern
Steady – All LEDs lit with a single color
Breathing – Color with a breathing effect
Flashing – Color flashing in and out across all LEDs
Double Flashing – Color double flashes across all LEDs
Default – Reset to the Rainbow effect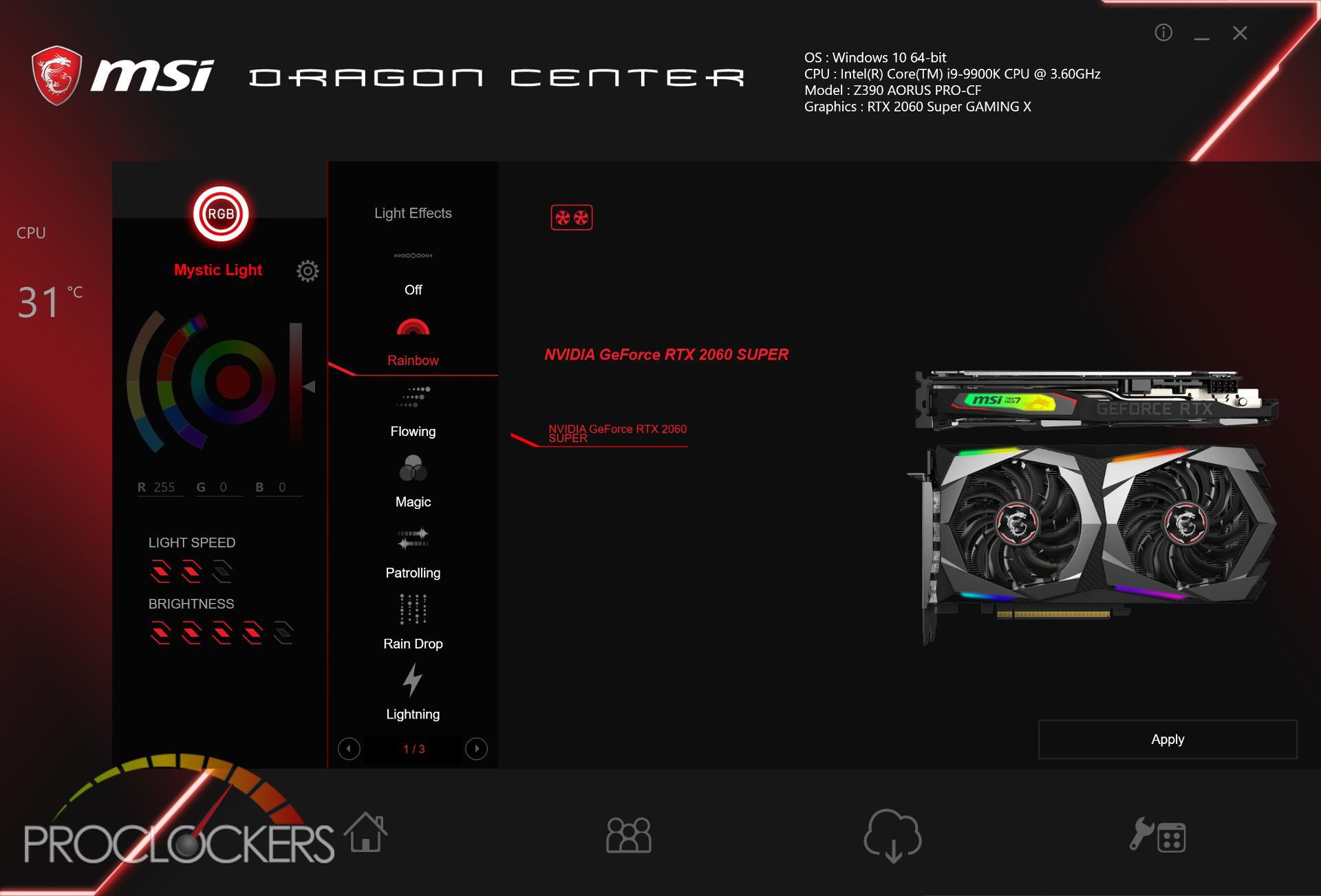 If you haven't already registered your RTX 2060 Gaming Z, you can do so by using the people icon in the lower menu.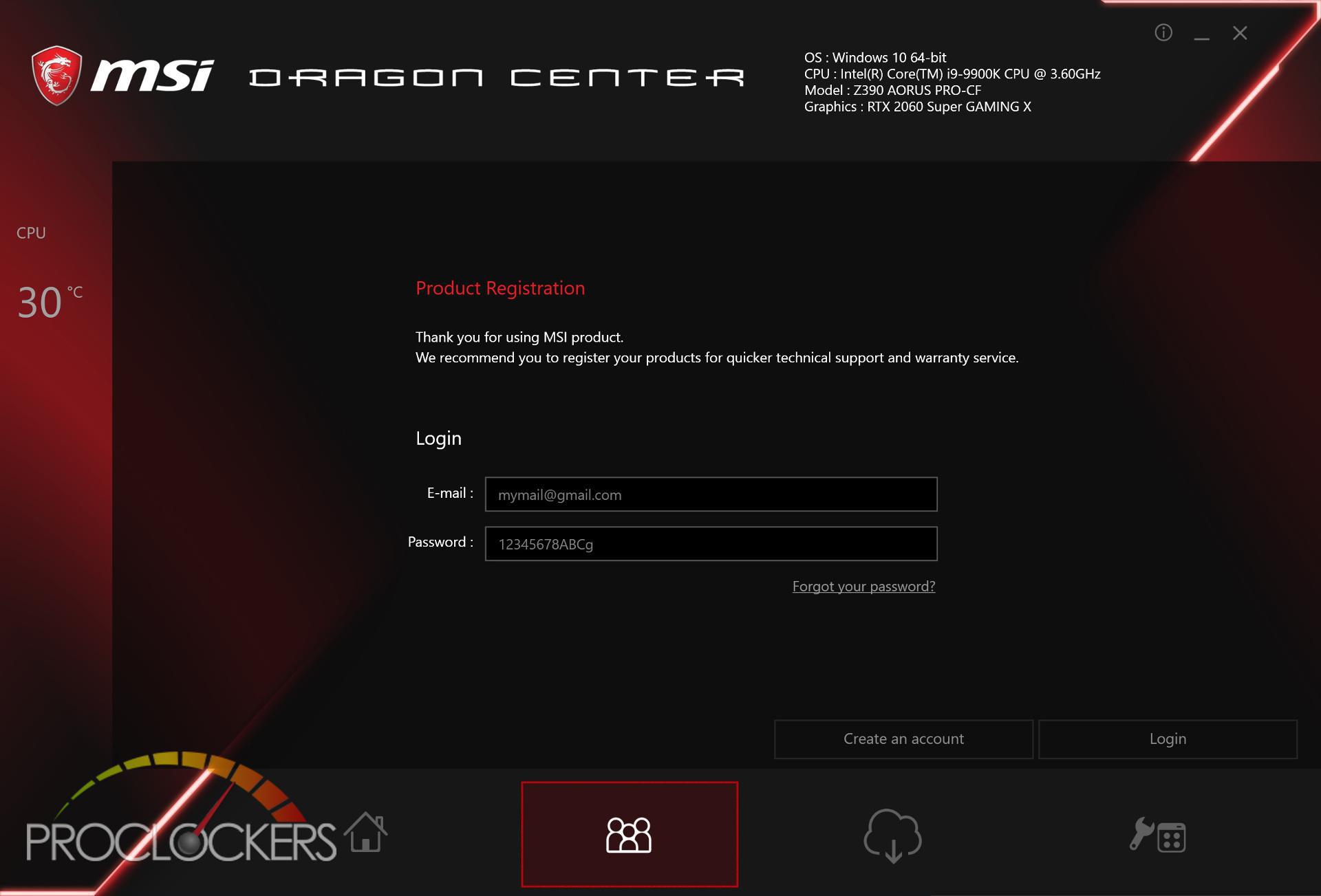 Using the cloud icon, Dragon Center will look for updates for your installed MSI software.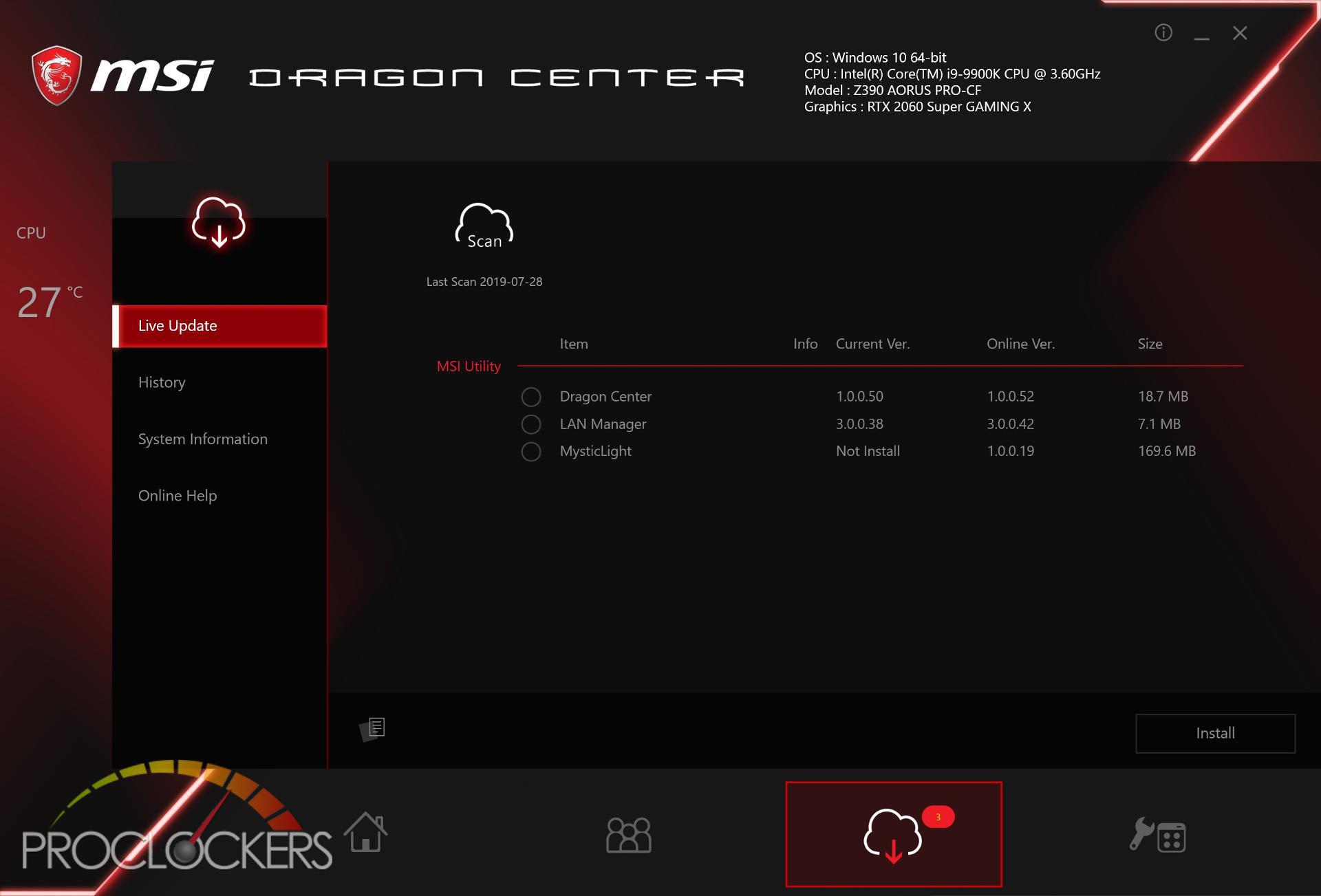 The last item in the lower menu allows you to turn Zero Frozr on/off and start Cooler Boost which runs your fans at full speed.