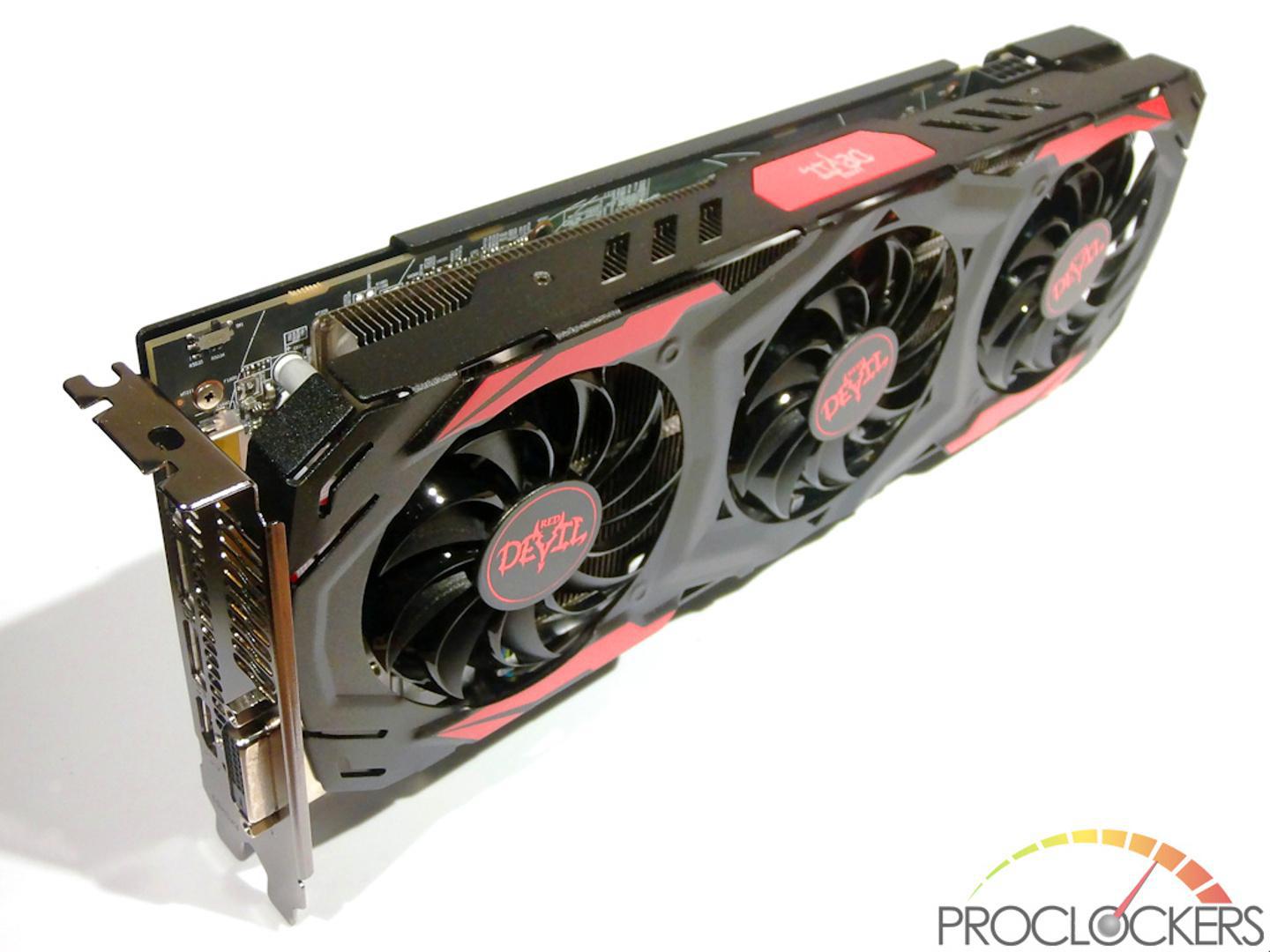 Introduction
Over the last few months, there's been a massive influx of graphics cards on the market. However, most the newest cards are on the higher end of the pricing spectrum. But what if you're on a tighter budget or you just don't require the power of a high-end card? Don't worry, because AMD has got you covered with the release of their 500 series of GPUs, a refresh of their very popular Polaris based 400 series of cards.
PowerColor Red Devil RX 570 utilizes 4GB of GDDR5 memory with 2048 stream processors, ships with 1320MHz core clock speed, and has 1750MHz memory clock speed which is connected via a 256-bit memory interface. The 6+1 multi-phases board design enhances the power efficiency and stability. In order to achieve better thermal performance the PowerColor Red Devil RX 570 adopts the newest fan technology called Double Blade III which increases airflows and prevents dust deposition on fans. The Double Blade III is made with triple 80mm 2-ball bearing fans.
When it comes to AMD graphics cards, there are several companies out there that do a good job at custom PCBs and coolers. There are few cards as popular as the PowerColor Red Devil line up. With the release of the 500 series, no doubt, there would be a new Red Devil card or two. In fact, we happened to get our hands on the new Red Devil RX 570. However, with the 500 series being a refresh, can the Red Devil RX 570 be all that different than the RX 470 from the last generation? We put the new Red Devil RX 570 through our suite of benchmarks. So, let's see how it did.
PowerColor's Take on the Red Devil Radeon RX 570
AMD Eyefinity Technology
Run multiple displays from a single graphics board and expand your gaming field of view across all displays.
GCN Architecture
A new design for AMD's unified graphics processing and compute cores that allows them to achieve higher utilization for improved performance and efficiency.
AMD App Acceleration
AMD App Accelerator creates a co-processing environment in which the compute processing potential in your AMD Radeon Graphics processor works together with the system central processor, to accelerate enabled applications.
AMD HD3D Technology
Supports the latest stereoscopic 3D content and display technologies
Play 3D games, watch Blu-ray 3D videos, and edit 3D photos on your 3D Monitors, TV, or projector.
AMD CrossFire™ Technology
Multi-GPU support offers superior scalability
Increase our gaming performance up to 2x with AMD CrossFire technology, 2.75x for TriFire configurations, or 3.75x with QuadFire configurations.
AMD HD Media Accelerator
Assumes rendering responsibility for HD encode (VCE)/decode (MPEG-4 ASP, H.264. MVC, MPEG2, etc.) and conclusively enable superior video playback quality with advanced hardware post-processing algorithms.
AMD PowerPlay Technology
AMD PowerPlay Technology dynamically adjusts clock speeds in response to GPU load, saving power for just when you need it.
AMD PowerTune Technology
Maximizes performance under load conditions by dynamically increasing the GPU engine clock to take advantage of unused TDP headroom. Also allows users to configure their own TDP limit, within a provided range, for even higher performance or more power efficiency.
PCI Express 3.0
Delivers double the bandwidth per lane of PCIe Gen 2 for faster GPU.
Microsoft Windows 7 Support
Comprehensive OS supports the latest Windows 7 functionality and Driver support.
Microsoft Windows 10 Support
Comprehensive OS supports the latest Windows 10 functionality and Driver support.
Advanced GDDR5 Memory Technology
GDDR5 memory provides the highest available memory bandwidth of any memory technology today, enabling higher GPU performance.
Gold Power Kit
The Solidly-built Components enhance the stability, performance, efficiency and quality.
HDMI
Integrated high speed HDMI output with 1080p 120Hz 3D Stereoscopic support, and 4K resolution display support.
Microsoft DirectX 12
Get intense gaming performance and unrivalled image quality with stunning 3D visual effects, realistic lighting and lifelike imagery.
Mute Fan Technology
Providing noiseless environment and reducing the power consumption when the GPU temperature is low than 60°C.
UEFI Support
Better security by helping protect the pre-startup, or pre-boot process against boot kit attacks and faster startup times and resuming from hibernation.
Virtual Super Resolution
Get quality that rivals 4K, even on a 1080p display while playing your favorite online games thanks to AMD's VSR.
Radeon VR Ready Premium
Delivering immense visual power and unmatched technological innovation, AMD's VR Ready Premium solutions set the bar for enabling premium experiences on high-end VR games, entertainment, and applications.
AMD XConnect Ready
With AMD XConnect technology, external GPU enclosures configured with Radeon Graphics can easily connect and disconnect to a compatible ultrathin notebook or 2-in-1 over Thunderbolt 3 at any time, just like a USB flash drive-a first for external GPUs.
Radeon Chill
Radeon Chill can improve power efficiency and can lower temperatures for supported products and games when enabled through Radeon Settings.
Radeon ReLive
Capture, stream and share your greatest moments and gaming wins with Radeon ReLive. Modify settings quickly, conveniently, and play seamlessly with the easily accessible in-game toolbar. Express yourself in bold new ways with custom scene layouts.