ROG Ryujin 360 AIO Testing and Fan Control
The Fans that come with the Ryujin are top of the line Noctua NF-F12 2000RPMs PWM fans. These fans have countless awards for their performance and reliability.
These fans use a "Focused Flow" frame which allows for straightening channels and focusing the airflow using various distances between the fan's stator guide vanes (more vanes generally equals better airflow through the fan). Noctua has gone an extra step by using the guides to create pressure pulses with the fan blades. This keeps overall fan noise down. If you'd like to know more about Noctuas NF-F12 Fans they have a whole page dedicated to information.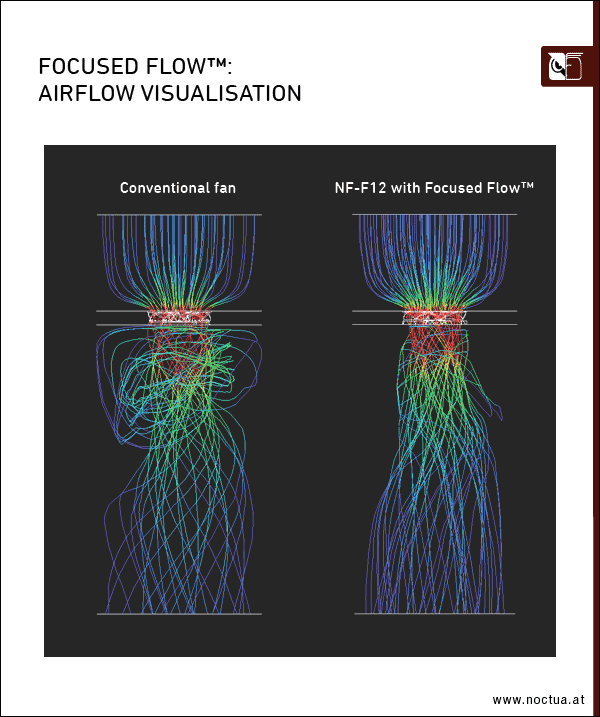 The Ryujin has 4 different fan pre-sets: Silent, standard, turbo, and full speed. What's extremely special about this AIO, is the embedded 60mm fan above the pump housing.
Silent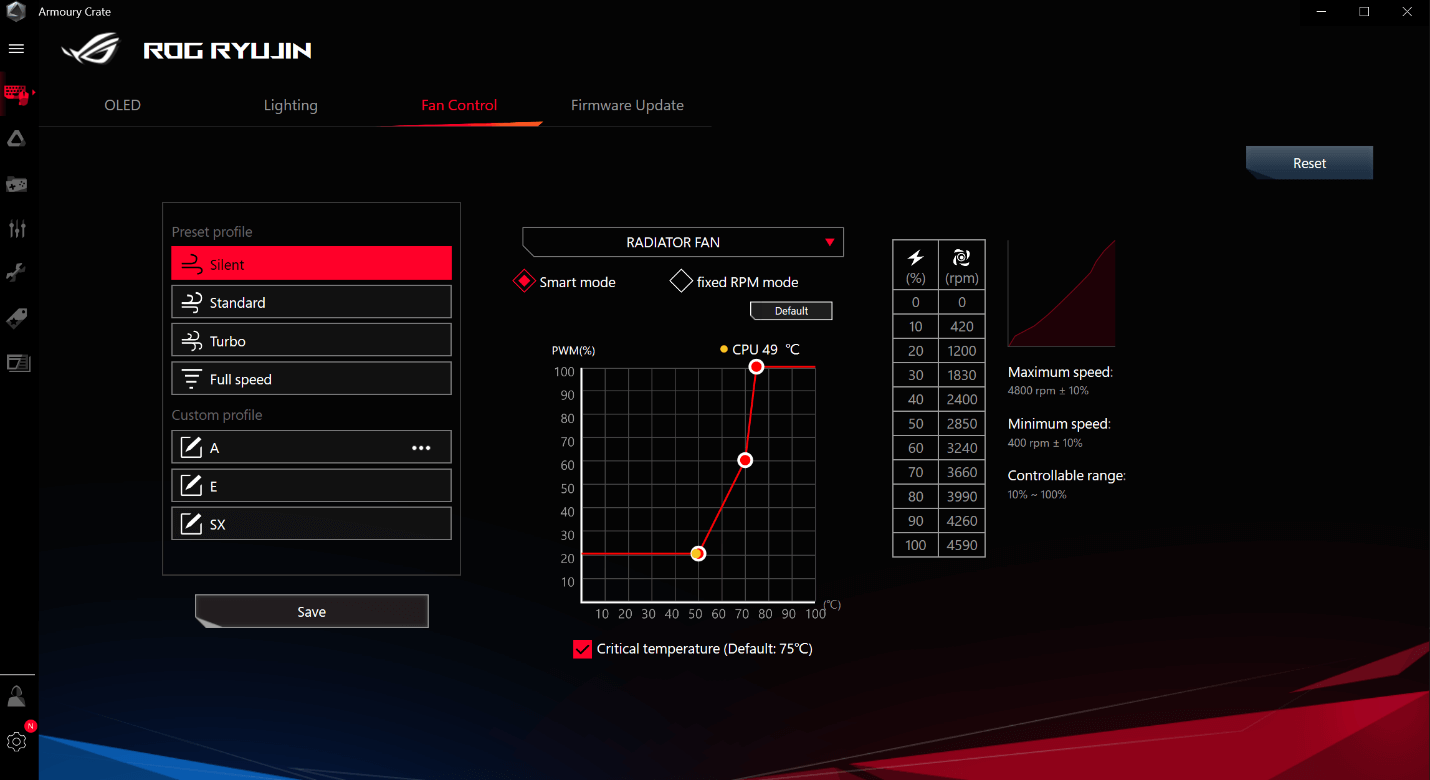 Standard
Turbo
Full Speed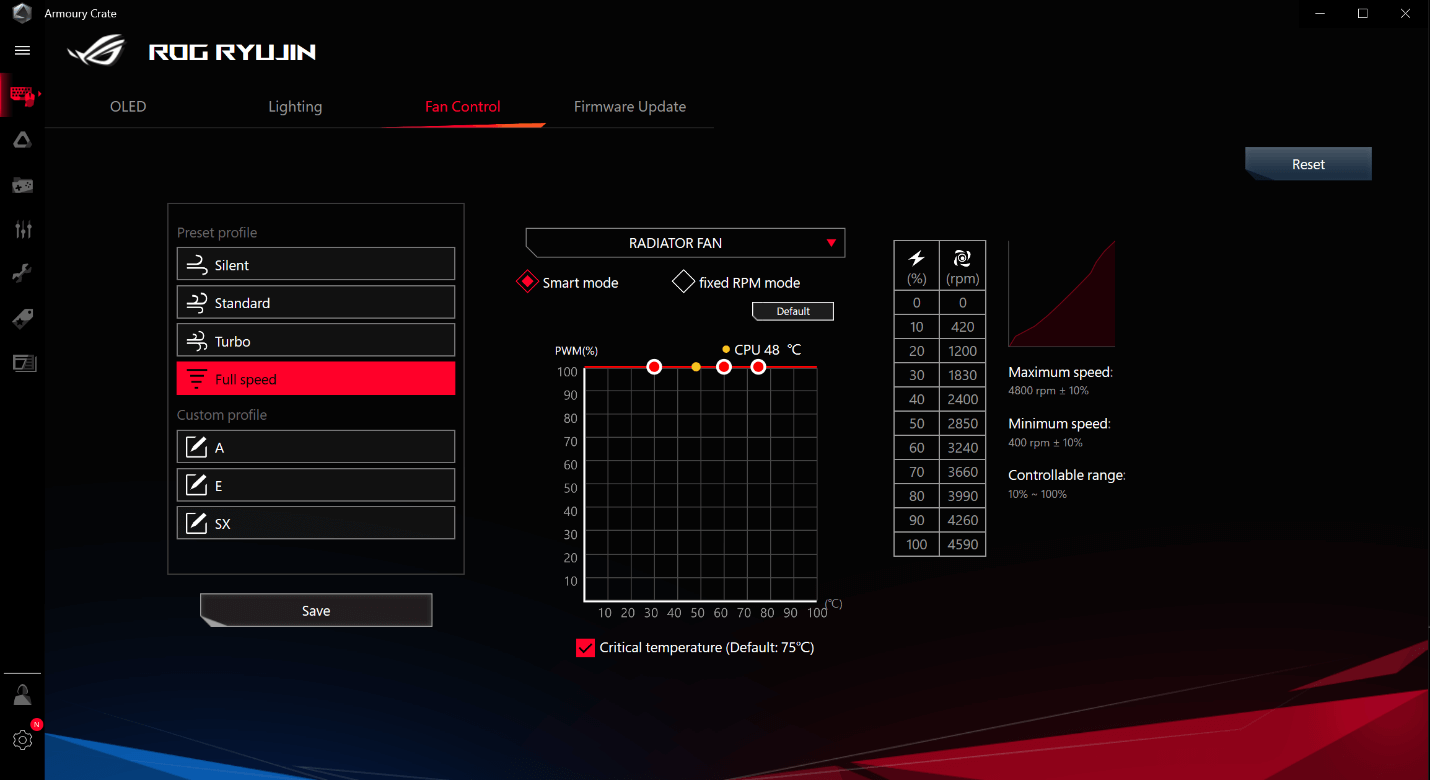 Custom Setting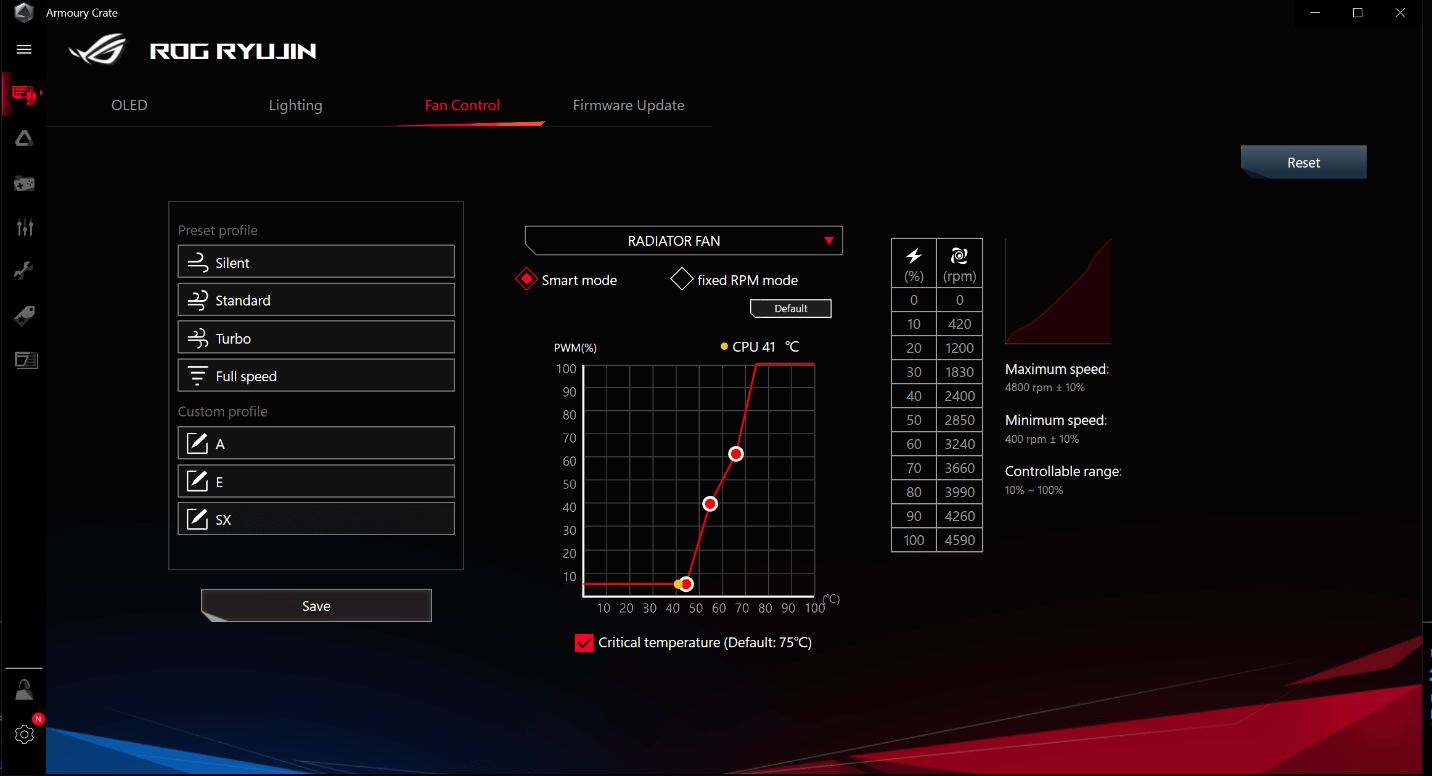 This fan acts as a lightweight VRM, M.2, and surrounding components, helping with stability and performance. Controlling these fans is simple. With these fans, you have the ability to change the radiator fan speed separate from the embedded fan speed. Smart mode will automatically adjust fan RPMs according to CPU temps. If you happen to have ASUS suite, this could be changed to monitor other temperatures, but CPU is the most important. Fixed Mode will allow your fans to run at a constant speed regardless of temperatures. Customizing the fans to have different settings for each fan simply requires creating your fan profile. Once set, the radiator fan and embedded fan can work independently of each other. Customizing your fan profile to perfect silence for when you are surfing or media watching, or Full Performance Cooling Turbo mode for those intense APPs that demand more power from your CPU, thus requiring more cooling power.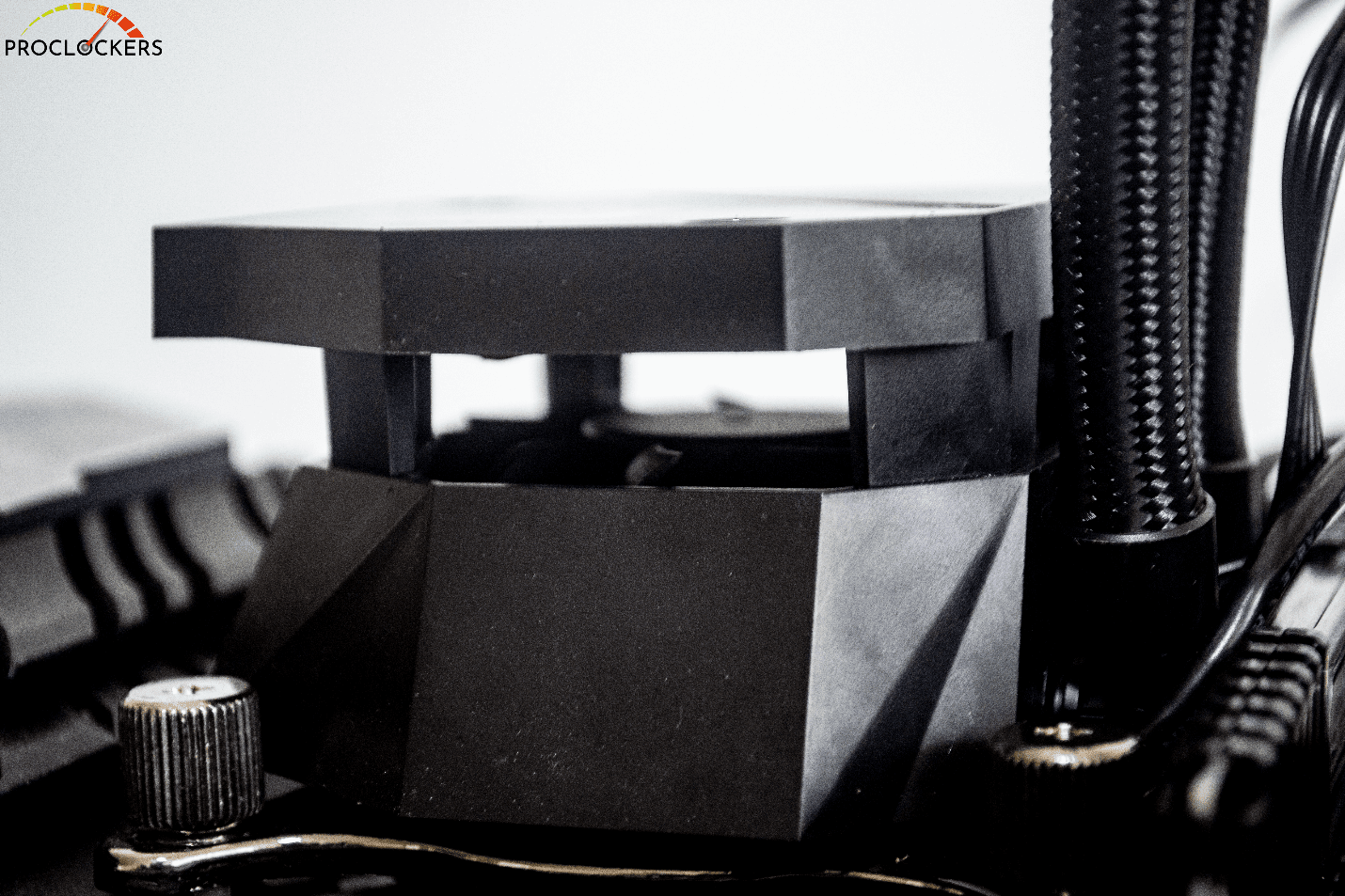 I found the perfect mix of silence and performance through testing different APPs and games and have found I able to keep peak performance while having ZERO fan movement from the radiator and only 600RPM from the embedded at 50C!  At 600RPM I've found that there is enough airflow to move the air around the CPU socket, keeping it at a very modest temp. This is great for when I want to watch movies as the noise is so low, I hear my monitor fan over my system. When gaming, I found at 50% speed, both the Embedded and Radiator fans keep the CPU at a cool 57-62C. Below, we will get into some testing with the pre-sets as well as figuring out just how loud the overall AIO is.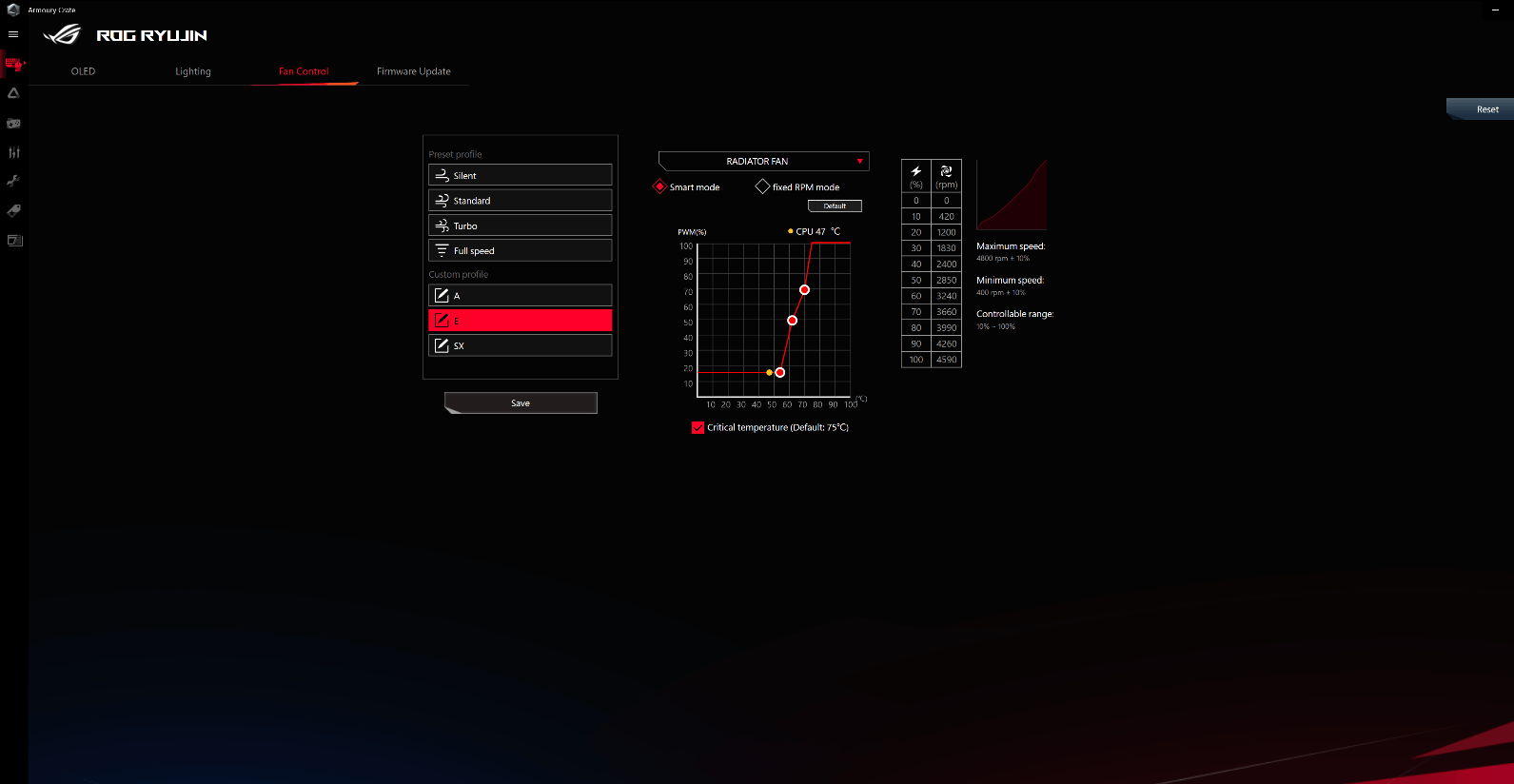 Our testing system, is an Asus ROG Maximus XII Extreme, Intel i9-10900k, 16GB Corsair 3200Mhz Ram, RTX 2080Ti, 1TB M.2, 4k 144Hz Monitor.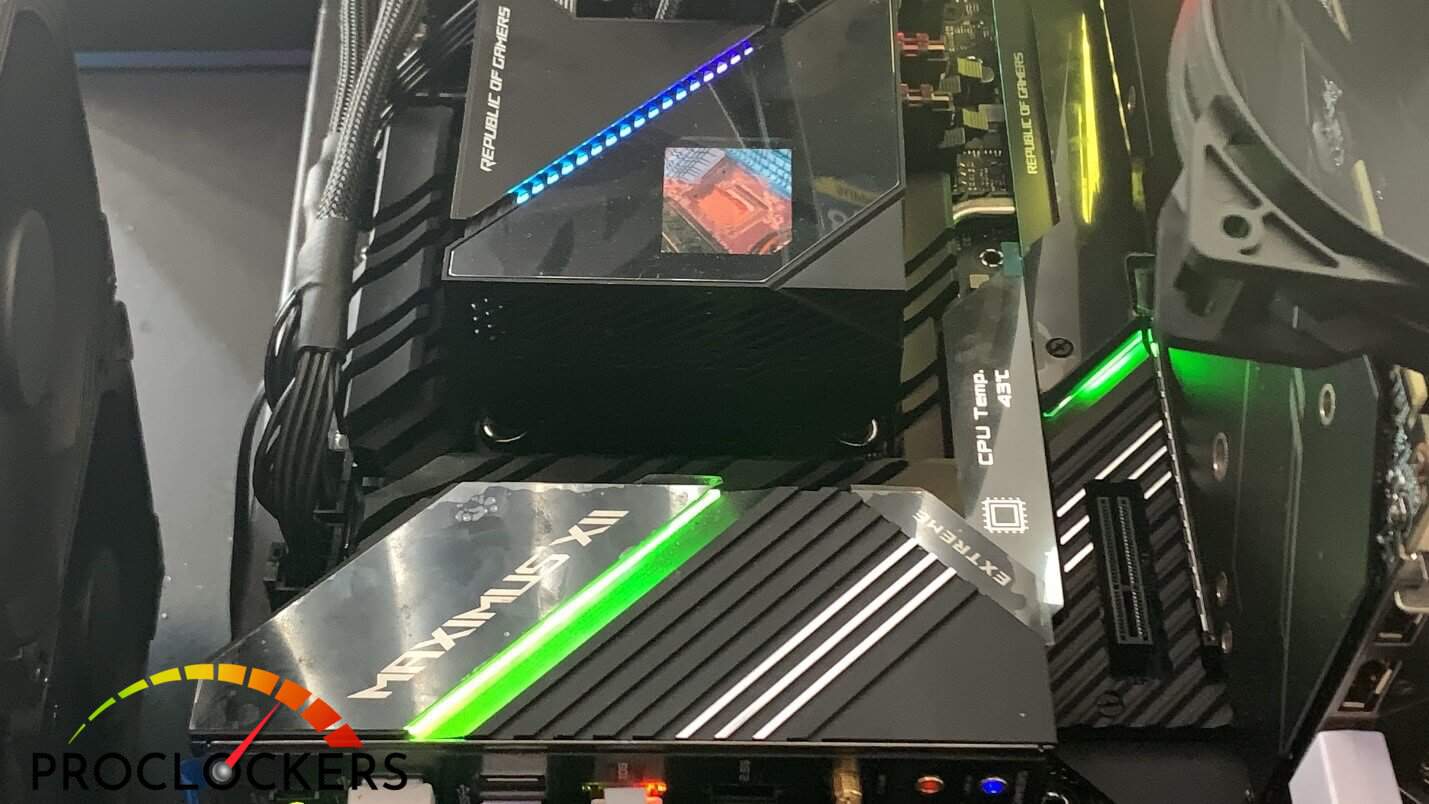 For testing, we'll be taking temps from the idle, load, and overclocking and we will compare them to our water-cooled rig, which consists of the exact same setup of just a custom water loop and Ek Water block. For our temp readouts, I'll be using Intels' Extreme Tuning Utility and HWMonitor. I've found that the two applications give me and accurate readout of temps as well XTU giving me the ability to monitor details such as thermal throttling and package TDP.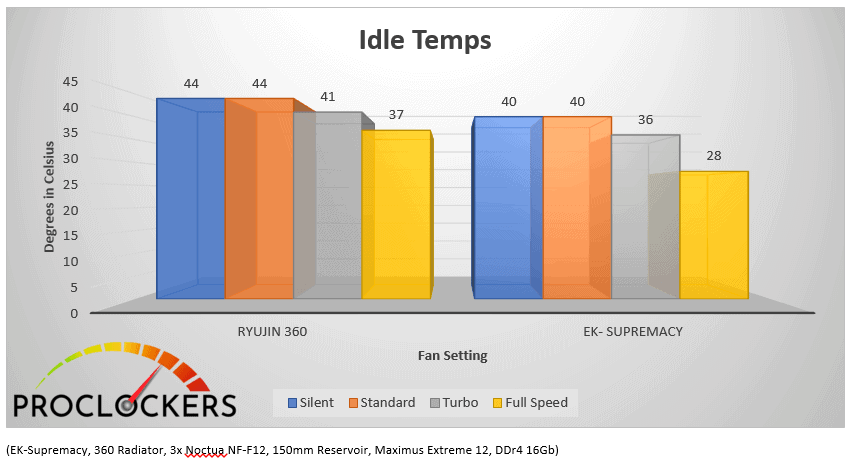 (EK-Supremacy, 360 Radiator, 3x Noctua NF-F12, 150mm Reservoir, Maximus Extreme 12, DDr4 16Gb).
Idle temps stayed in the sweet spot for the Ryujin, dipping into the high 30s at full speed. This could be used in a benchmarking test to get the CPU as cool as possible before starting the test to increase the startup score. In many cases, the fan never moved, even while having a video play for a set time. This is also customizable in the Armory Crate as well.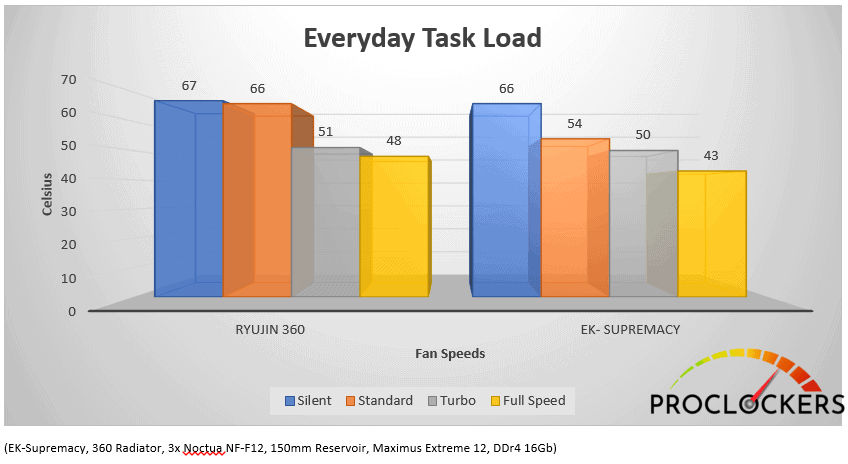 (EK-Supremacy, 360 Radiator, 3x Noctua NF-F12, 150mm Reservoir, Maximus Extreme 12, DDr4 16Gb)
Everyday tasks such as web browsing, running multiple apps, and gaming didn't make the 360 budge. Even games such as Call of Duty: Warzone only saw temps reach the mid-60s. Fan noise at each would be considered silent if you have the right case. An enclosed case may be able to dampen sound enough for settings like Turbo to become inaudible.