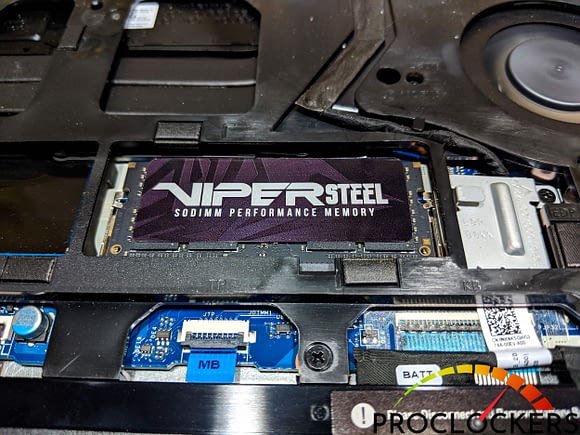 It seems like I spend more time doing work tasks on my Dell G7 Gaming laptop than I do actually gaming with it. Most recently, its tasks have been split between serving as my mobile office in my day job or as a CAD, CAM, and CNC controller in my workshop, and honestly, I don't even have any games actually installed on it at the moment. While my Stock Dell G7, circa 2018, is still quite the capable PC, but despite having 16GB of DDR4 RAM from the factory, I have had issues with running out of RAM when using certain CAD programs, alongside a popular vector graphic creation program while also running a memory hungry web browser such as Google Chrome. This is certainly an edge case that most laptop users will never experience, but I decided to see if a simple memory upgrade would solve these issues for me.
When Patriot announced the release of their new Viper Steel 32GB SODIMM Performance Memory modules, I reached out and asked if they would send a set over for review and mentioned my recent RAM woes. A few weeks later, a single stick of Viper Steel 32GB SO-DIMM DDR4 3000MHz was on my doorstep. I requested a pair, as the Dell G7 features a dual-channel RAM kit from the factory, and I knew that this single-channel stick would affect performance. In the end, that concern turned out to be less of an issue than I had originally thought, but I am getting ahead of myself, so let's take a few minutes to learn more about Patriot's new Viper Gaming Viper Steel Performance Memory. 
Patriot delivers Gaming Viper Steel 32GB PC4-3300 DDR4 SODIMM RAM
From The Manufacturer:
Patriot's Viper Steel SODIMM delivers cutting-edge performance for notebooks and small form-factor PCs without sacrificing reliability. Built for the latest Intel® and AMD™ platforms, Viper Steel SODIMM provides the best performance and stability for the most demanding computer environments. 
Viper Steel Performance RAM is manufactured to ensure rock-solid and easy-to-use plug-and-play performance, even for the most demanding games and applications. Built from the highest quality build of materials, Patriot's Viper Steel SODIMM memory modules are hand-tested and validated for system compatibility.
Patriot's Viper Steel SODIMM Series will be offered at speeds from 2400MHz up to 3000MHz with XMP 2.0 support. Hand-tested for quality assurance, the Viper Steel SODIMM series is backed by a limited lifetime warranty. Easily upgrade, load files faster, and increase
responsiveness to improve your system with Viper Steel SODIMM modules.