The SanDisk Extreme Portable SSD is a portable external SSD, rugged and ready for adventure.
If you're out and about and you need a durable SSD that is not just water and dust resistant, but also powerful and compact, SanDisk has an affordable offer through its Extreme Portable SSD.
The design of the SanDisk Extreme Portable SSD 1TB is well thought. There's an orange plastic loop at the top right of the SSD which you can use it to attach it to keys or any item you want. Thanks to its IP55 and the rubber edges, along with the textured surface, the SSD drive from SanDisk is very easy to grip. And if you do drop it by mistake, the Extreme Portable SSD should do fine after 2m drops. Some might even confuse it with a Bluetooth speaker or other small cheap gadgets, which is great in reducing the odds of your drive being stolen.
Let's take a closer look at the technical specifications, pros and cons, and how well does SanDisk's drive compare with the competition in our SanDisk Extreme Portable SSD 1TB Review.
SanDisk Extreme Portable SSD 1TB – TECHNICAL SPECIFICATIONS
The drive comes in various size models, but we'll talk about the 1TB model.
Capacity: 1000GB / 1024GB
Performance: 1,050 MB/s
Controller: WD NVMe Architecture
Flash: WD 64L TLC
Interface: USB-C / USB 3.1 Gen 2
Dimensions: Width: 26 in / Height: 0.4 in / Length: 4.34 in
Weight: 79 g
We have mentioned the design of the SSD, but as you can see in the spec sheet, you will notice that the Extreme Portable SSD is also very small and lightweight. It will fit in your back pocket and it's what makes it so popular on the market. In terms of portability, this drive is winning all points. But what about compatibility and speed?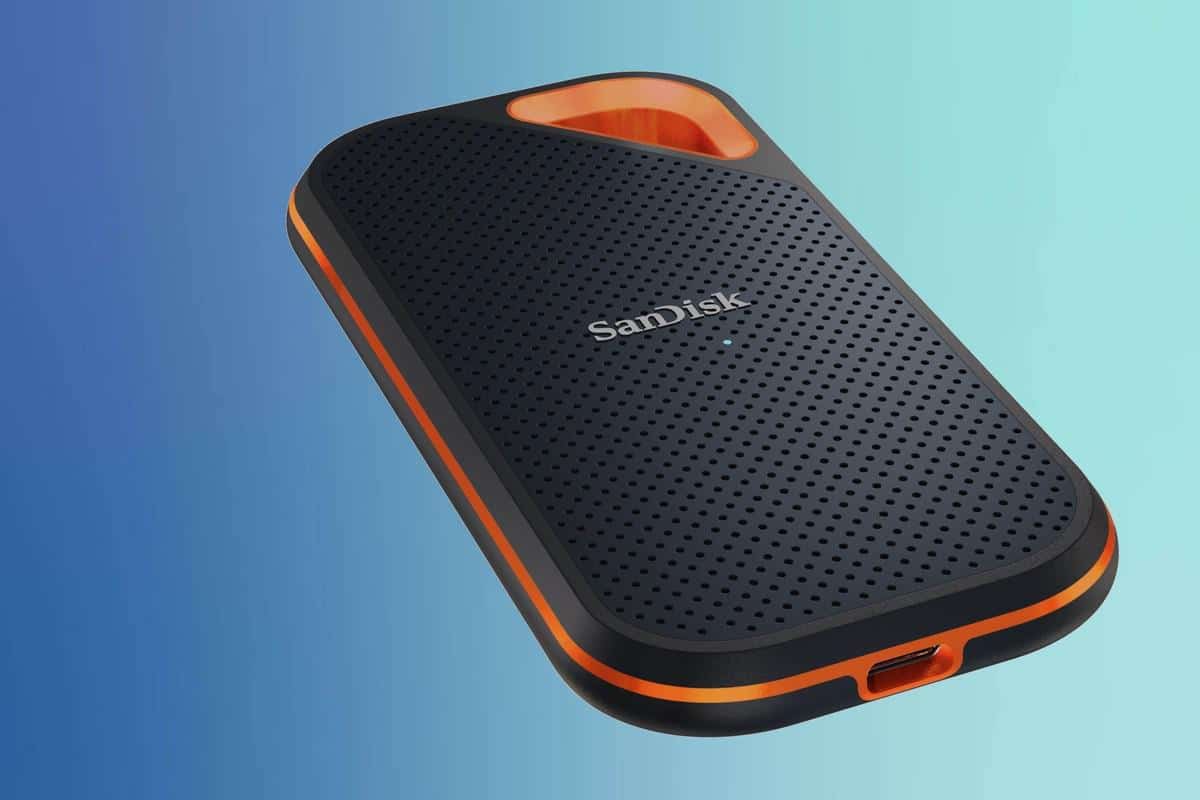 SanDisk Extreme Portable SSD 1TB – Pros and Cons
+ Pros: great design, good GB/price value, great performance, water and dust resistant, 10Gbps data transfer rate
– Cons: not as fast as Samsung's T5 (at the same price range), the physical port limits data transfer rate.