Testing the Tecware Vega L
So, the real question we start asking is: can it handle top of line heat thrower hardware? Well kind of – our specs are as follows:
Asus Strix E-299;
Intel Core i7-7820x;
16GBs of Corsair LPX [email protected];
3x Western Digital 1TB M.2 (2 in Hyper x16PCIe RAID);
Aorus Xtreme 2080ti, and;
FPs Hydro GE 650w PSU.
Note: All games and settings are at MAX and resolution is 3840×2160.
Under idle and light loads, we get temps around 33C on the motherboard, 37C on the VRMs, and our CPU is reporting 36 degrees on the Die. When loading up an intense game, like CoffeeStains- Satisfactory, I've easily seen 60-65C across the board. With the area around the GPU being the hottest, this will differ with others as the Aorus Xtreme is designed to be mounted vertically. As it pushes air up and down instead of sideways, this problem causes the hot air to be pushed back onto the GPU if the tempered glass is set up. The fix to this was to set the chassis fans to the max, with the trade off being a higher Db sound, which isn't jet noisy by itslf, though when the GPU gets involved, the whole case sounds like it's waiting for permission to lift off.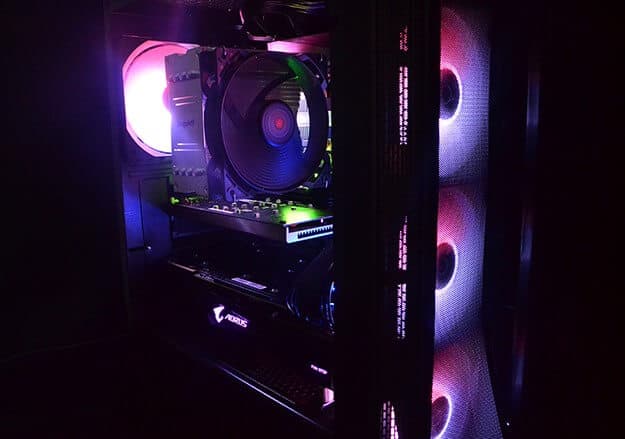 Final thoughts and impressions on this case are that it's a perfectly good case. Once you get everything installed, you're set! While it could use a vertical slot for GPU mounting, there's plenty of real estate space for two more fans in the top section, which would promote loads more air flow. We did lose out on a bit of storage space in the HDD cage however, which can be a major deal breaker for many, but for those looking for a cheap RGB package coming in at $69.99 at the time of this writing, this case will still have you staring at it in awe.
Proclockers would like to thank Tecware for sending us the Tecware Vega L case for review!