2016 may not have been the best year when it comes to gaming, but still, plenty of resounding names saw their debut in that year. We can remember Mafia 3, Watch Dogs 2, Forza Horizon 3, Dark Souls III, Overwatch, and many more. Therefore, you need some powerful hardware on your computer (at least for 2016) to run such games, and we're glad to offer some help. Checking out these laptops is also a great way to get a computer that's still capable of running most new games at mid-level settings but at a lower price tag.
Luckily for those who began their journey as gamers in the year when Donald Trump was elected as president of the United States, plenty of powerful laptops for their time were released. It's not necessary to be a gamer to like the laptops that we'll be proposing in this article. A gaming laptop also means a computer suitable for tasks like video editing, programming for apps and games, and more. Of course, such gear won't be cheap at all, but it may still be worth the money even for a computer released 4 years ago. Therefore, you should consider these top 6 gaming laptops from 2016:
What is the best gaming laptop from 2016?
The best gaming laptop from 2016 is the ASUS ROG G752VT. The power speaks for itself. 24GB of ram, 256 GB SSD (plus a 1 TB of normal hard drive storage, a powerful GPU and a beautiful design, makes this computer objectively desirable even today in 2021.
More information on this laptop further down in this list.
MSI GE62 Apache Pro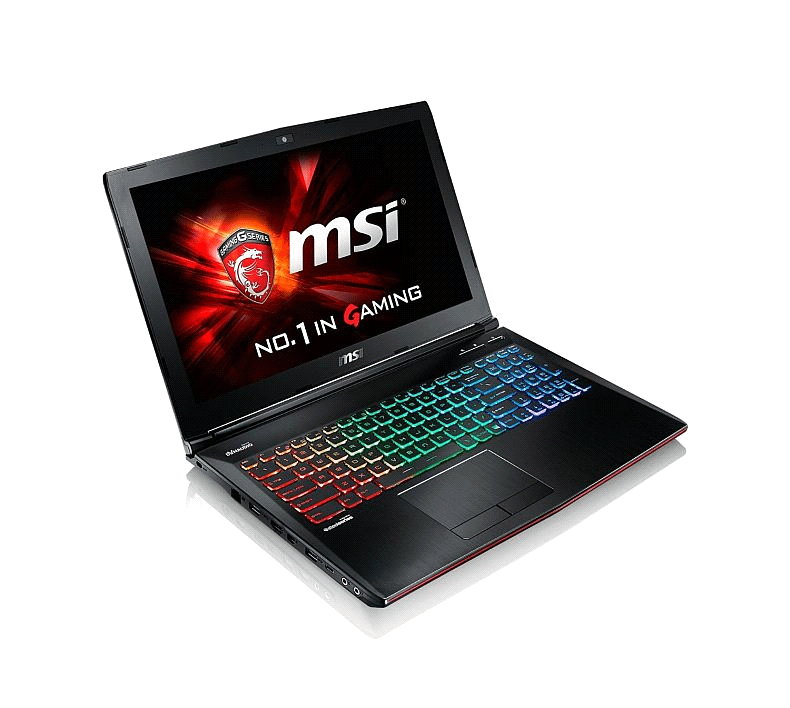 Display: 15.6″ Full HD with 1920×1080 resolution
Operating System: Windows 10
Processor: Intel Core i7-6700HQ Quad Core Processor of 2.6-3.5GHz
RAM: 16GB DDR4 2133MHz
Graphics Card: NVIDIA Geforce GTX960M 2G GDDR5
Hard Drive: 1TB (7200RPM)
Optical Drive: SuperMulti DVD
You just cannot remain unmoved by the specs of this beauty, as they grant outstanding gaming performance. Besides the powerful hardware, the RGB LED keys built by SteelSeries improves your gaming with GE62 Apache Pro even more if you're the kind of gamer that loves playing its favorite titles during the night. The laptop also features basic ports like HDMI, USB 2.0, USB 3.0, and USB 3.1.
The processor, RAM, and graphics card are arguably the most important aspects when it comes to gaming, and the GE62 Apache Pro model built by MSI qualifies very well. Furthermore, the gadget has enough space on the hard disk where you can store plenty of high-end games from 2016.
Alienware AW17R3
Display: 17.3″ Ultra HD
Operating System: Windows 10 Home
Processor: Intel Quad Core i7-6700HQ of 2.6 GHz
RAM: 8 GB DDR4
Graphics Card: NVIDIA GeForce GTX 970M
Hard Drive: 1 TB
No Optical Drive
Just like pretty much any other decent gaming laptop, this gear created by Alienware also features backlit keys. If you want to trick your parents that you're sleeping when the lights from your room are off, but instead you want to play Mafia 3, for instance, the Alienware AW17R3 laptop will grant your wish.
The lack of an optical drive could be a problem for many, we must admit. But even for 2016, there are lots of games that you can play without inserting a physical disc. Besides, you could consider buying the laptop if you want a powerful graphics card and a processor that will make a lot of games to run smoothly. Not to mention that the 17.3-inch Ultra HD screen is meant to showcase crisp and very clear picture quality.
ASUS ROG G752VT
Display: 17.3″ Matte IPS Full HD with 1920×1080 resolution
Operating System: Windows 10
Processor: 6th-generation Intel Core i7-6700HQ 2.6 GHz (support for up to 3.50GHz)
RAM: 24 GB DDR4
Graphics Card: NVIDIA GeForce GTX 970M w/ 6GB VRAM with G-Sync
Storage Space: 256 GB PCIeG3 x4 NVMe SSD+1 TB 7200 RPM HDD
As you probably had already noticed, it's time to raise the stakes a bit with this laptop from ASUS. More RAM automatically means a much more imposing powerhouse, and the ROG G752VT from ASUS follows the recipe very faithfully. The Republic of Gamers (ROG) line of laptops from ASUS also follows the tradition of offering powerful hardware dedicated for gaming. The users of this laptop can enjoy the 1TB+256GB SSD storage as perhaps the main highlight.
ASUS doesn't really need any presentation, however, and we believe that getting your hands on the ASUS ROG G752VT laptop is a good idea even in 2020.
Lenovo Y700
Display: 15.6″ Full HD
Operating System: Windows 10
Processor: Intel Core i7-6700HQ 2.6GHz
RAM: 8GB DDR4 SDRAM
Graphics Card: NVIDIA GeForce 960M
Hard Drive: 1TB (5400RTM)
This laptop from Lenovo isn't really the kind of device that you would take with you on a lonely island, but it does the job at a decent level when it comes to gaming and not only. The graphics card support a maximum memory of 4GB, which is more than enough for running most of the mid-level games released until 2016. Also, the Intel Core i7 6700HQ processor grants enough power for such kind of purposes.
The Chinese company Lenovo presents its gadget as an 'immersive gaming laptop', and the complete multimedia experience granted by the hi-def display, surround sound, and subwoofer is also an important part of what the laptop is capable of. Lenovo also adds:
>