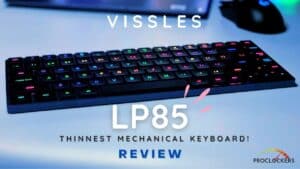 Today we're diving into Vissles LP85丨The World's Thinnest Optical-Mechanical Keyboard.
Last Updated: November 2021
Mechanical Keyboards have become super popular again since 2020 when the Covid19 pandemic spread worldwide. With everyone from well-known brands to start-ups releasing all kinds of models and designs, its fame quickly reached IGers and Tiktok-ers taking extremely aesthetic photos, doing ASMR, or playing with their keyboard's RGB functions. It indeed became a must-have accessory for most PC users and even those using laptops— gamer or not, everyone's just gushing over owning one, and of course, that includes me!
Mechanical keyboards are quicker, sturdier, and give off a lot of typing satisfaction because of their unique typing and audible feedback. With these, it's easy to see how mechanical keyboards became so popular. But also because of these features, mechanical keyboards tend to be bigger, louder, and more tiring to type on, unlike membrane keyboards.
Now let's see the real deal behind this beauty!
SATISFACTION IN UNBOXING VISSLES LP85
By now, you probably already know how much I get excited about unboxing stuff. So I'll start with how beautifully wrapped Vissles LP85 is.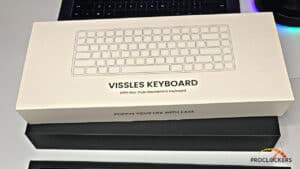 Its packaging also shows Vissles' approach to functional and minimalistic designs. It comes in a black box with a white paper board holding the box together— it has Vissles LP85's outline at the front and all its info and functionalities at a glance on other sides.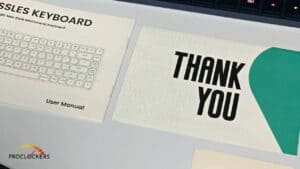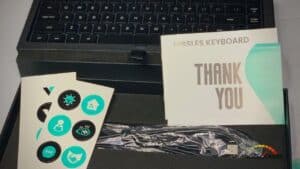 In the box, you'll see the LP85, neatly secured in customized cardboard to hold it. After lifting the black ribbon, you'll see the manual, some stickers, a cute thank you card, and a USB-C cable for connection and charging. Upon holding into this keyboard, one thing that I genuinely appreciate is its aluminum chassis. It's compact, nice to the touch, and aesthetically pleasing to the eyes, especially when turned on.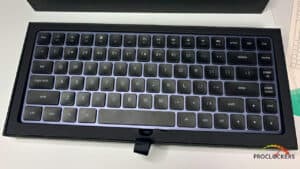 Now that we're done with the unboxing, let's see Vissles LP85's features and functionalities in detail.