As time and restrictions become stronger against freely using the internet, programs like WonderFox's HD Video Converter becomes more and more essential. While HD Video Converter Pro was introduced to me as a simple way of downloading YouTube videos for educational and editorial purposes, the software expanded to be so much more than that. With this software not only are you getting a simple way to download mp3, mp4, and other files from YouTube you are getting a wide array of tools that you may use?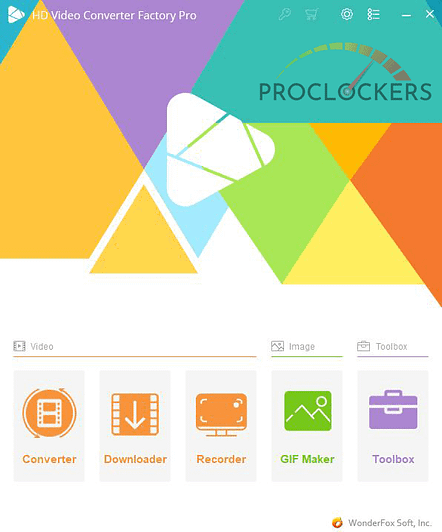 Wonderfox was established in 2009 and according to their website "Wonderfox is a software company specialized in multimedia software solutions including video/audio converting and editing programs. Due to superior quality and service, we have nearly 3,000,000 clients all around the world."
A Large Package
If you have heard about HD Video Converter Factory Pro then chances are you are looking for a way to download YouTube videos off of YouTube and onto your computer. However, as mentioned before HDVCF has much more to offer under the hood. There are five different options you will be met with when you load up the software. 
Converter

Downloader

Recorder

GIF Maker

Toolbox
Each of these options opens a separate window in which you can use their functions. The Converter window opens a window in which you can convert video formats to different other formats. Here you can add files straight from your computer and select from a large list of video extensions like .mp4 to things like H.264. They also have a wide array of different formats for your video to run on different products like Apple, Samsung, and Microsoft to name a few. If there is a format you are after it will be here. 
The Downloader window is the window where you can copy YouTube links into and download them to your PC. I found that this downloader worked with most YouTube videos, however, there were some videos that were not able to be analyzed properly. This is to be expected but if you want to download a video off of YouTube it will likely be able to use the HDVCF. 
The Recorder option gives you the ability to record your screen. I personally have used this feature in a few reviews I have done where I need to show software off. In fact, I'm using it for the video review of this product so if you would like to see that make sure to follow the link above. In the window, you can choose between a custom recording window or simply recording your full computer screen. You can also select an input device to use for voiceover. You can set the quality of the video in a simple slider. It doesn't show the aspect ratio or anything in the slider so it's just based on preset sizes based on where the slider is. This is a bit risky to use if you are looking for specific video quality. The overall quality of the screen recorder is great if you are using it for simple tutorials or just showing a program to someone. However, if you use the program for capturing game footage or anything too demanding the recorder doesn't do so hot. I definitely wouldn't use this to record any gameplay of PC games, but if you needed to show someone something on your computer it certainly gets the job done. 
The GIF Maker may be one of the most extensive programs inside the HDVCF. You can convert a video or picture into a gif from this window. You can set the frame rate at which you want your gif and you can even set when it begins and ends. After that, the program will run the video or pictures through the program and give you a gif!
What's in the Box?
Lastly, we have the toolbox. At first, I thought this would be extra settings for the program as a whole. However, it essentially opens another window with other functions inside. Here you will find programs that can;
Convert Photos to Video

A Split Screen Video Recorder

A Ringtone Maker

A Subtitle Extractor
All of these are pretty self-explanatory and work similarly to the other programs mentioned above. At this point, these are just extras to play around with. However, if you were looking for a very specific tool and it happens to be a subtitle extractor you are in luck!
Overall
After my time with HDVCF from WonderFox, it definitely seems like the program is quantity over quality. This is the case for a few of its programs. Several programs do their function perfectly, such as the video downloader or converter. However, the screen recorder could definitely have more options and output better resolutions. The GIF Maker is a nice addition but strange to have in this package. Then the toolbox definitely seems like extra fluff to make you feel like you get your bang for your buck. I could definitely recommend the program for people looking for a specific tool inside of it. If you are looking for a video converter or downloader this serves that purpose great! However, if you were looking to this for a screen recorder I would pass on it. Overall, if you need a bunch of these programs the HDVCF is a no brainer, but if you are only going to use one of the programs found here there are definitely cheaper options out there that give you the one thing you need.