Xigmatek Aurora 360 AIO Specifiations
Radiator
The radiator is made from aluminum and is extremely light. Even with the liquid inside, the feather lightness of it kind of surprised me. Full 360 Raid, meaning 3 120mm fans can fight on each side. Similar to other high performance AIOs, the FPI (fins per inch) is expected between 8 and 12.  More FPI will equal a tighter airflow, though too much and the required power from your fans starts to outweigh the efficiency of cooling. The rad is extremely slim at just 27mm thick. I would not recommend using a push pull method. Unless you want to be all about the RGB "lyfe". The tubes leading out of the radiator are conveniently sleeved in black with a max length of 350mm and will come pre-loaded with Xigmateks coolants.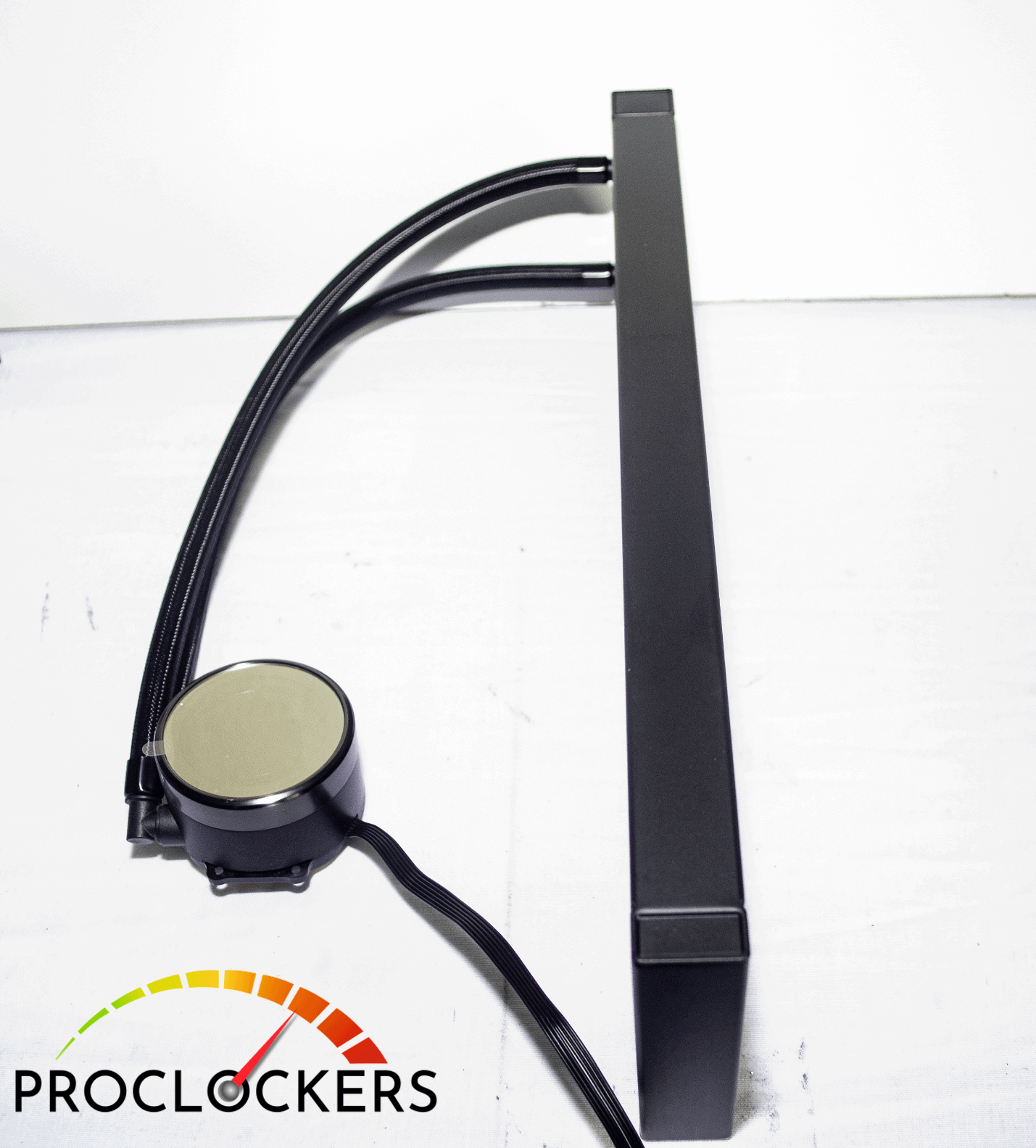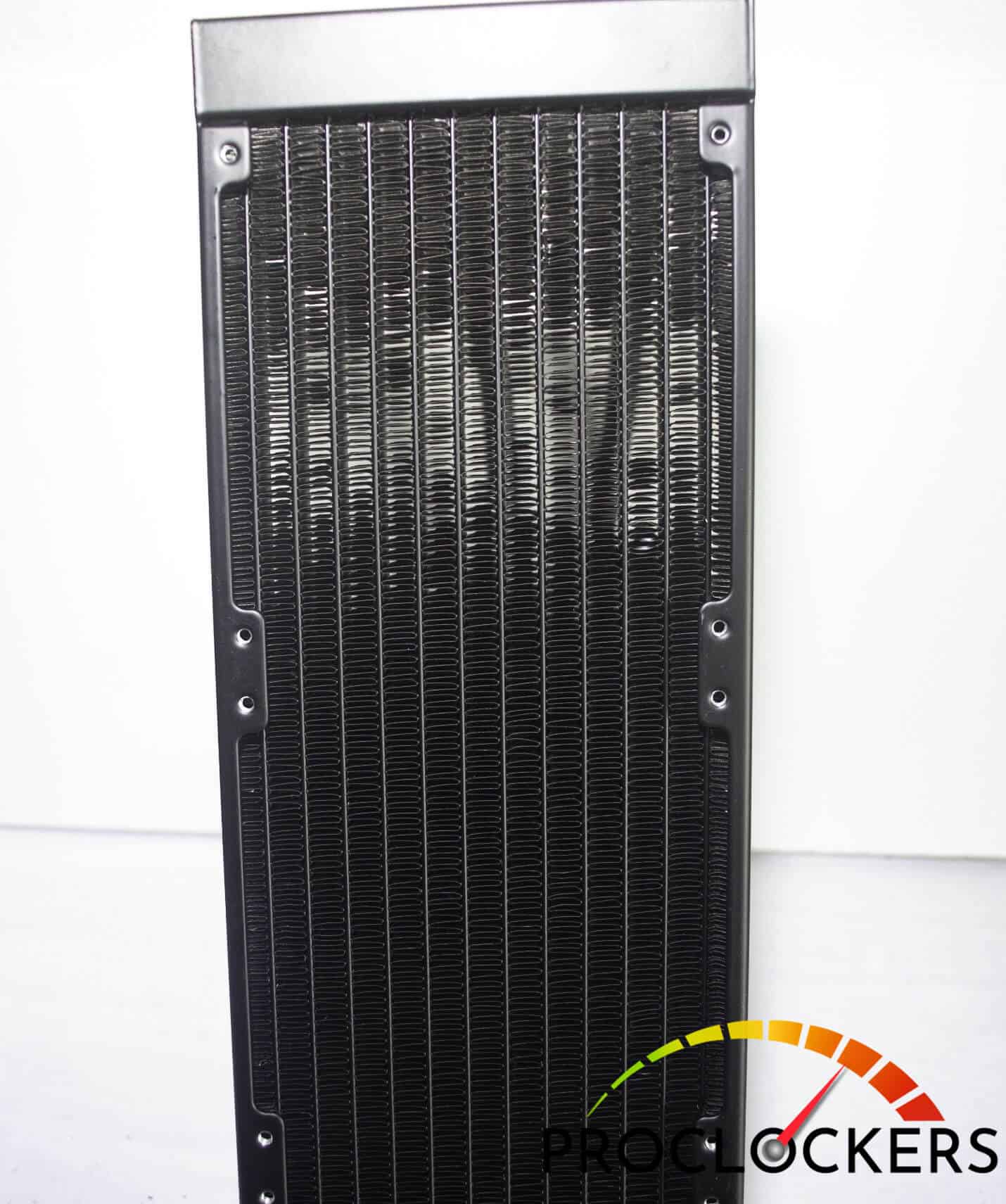 Pump
This is probably one of the fanciest pump blocks I've ever seen, with an RGB infinity mirror top. It adds quite an awesome effect of colored rings going down into a black abyss and Xigmateks X logo shines in the middle. The pump housing itself is in the middle and right above the copper plate. The two-chamber design makes sure coolant is constantly lubricating the bearings inside the pump. The bearing itself is made from ceramic, offering long service life and less resistance during those higher processes. It's rated to hit 2600RPM @28dBA, which is a good middle RPM to stand at having fast and constant flow over the copper plate. With that, it is still noisy. I noticed even with the fans turned up to their max 1800+RPM, the pump was still more audible, making worth of a desk PC only if you have your glass up to muffle out the sound. Powering the pump is a bit different as well, as power will come from the control box that is then connected to SATA power, but we'll get to the control box a little later.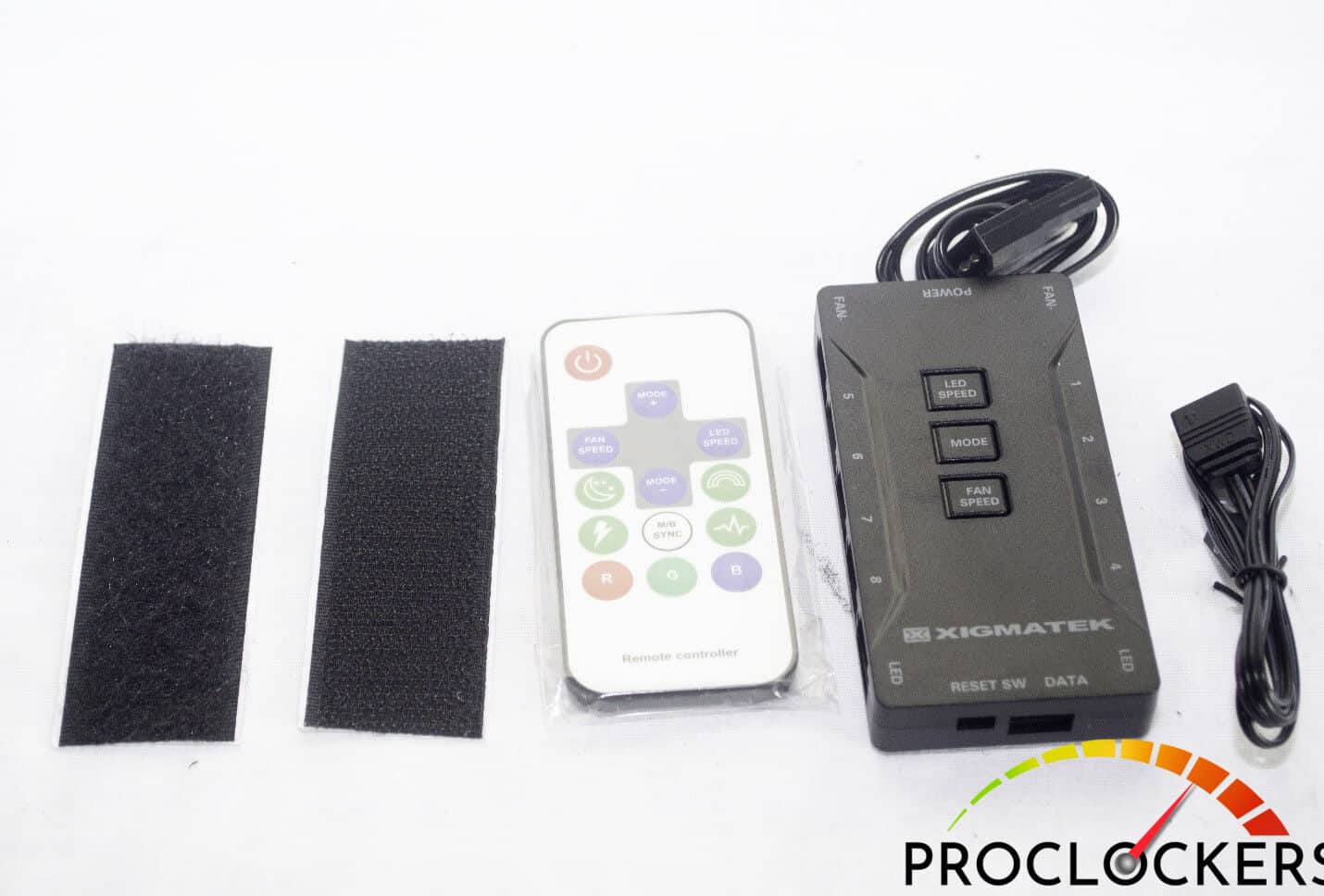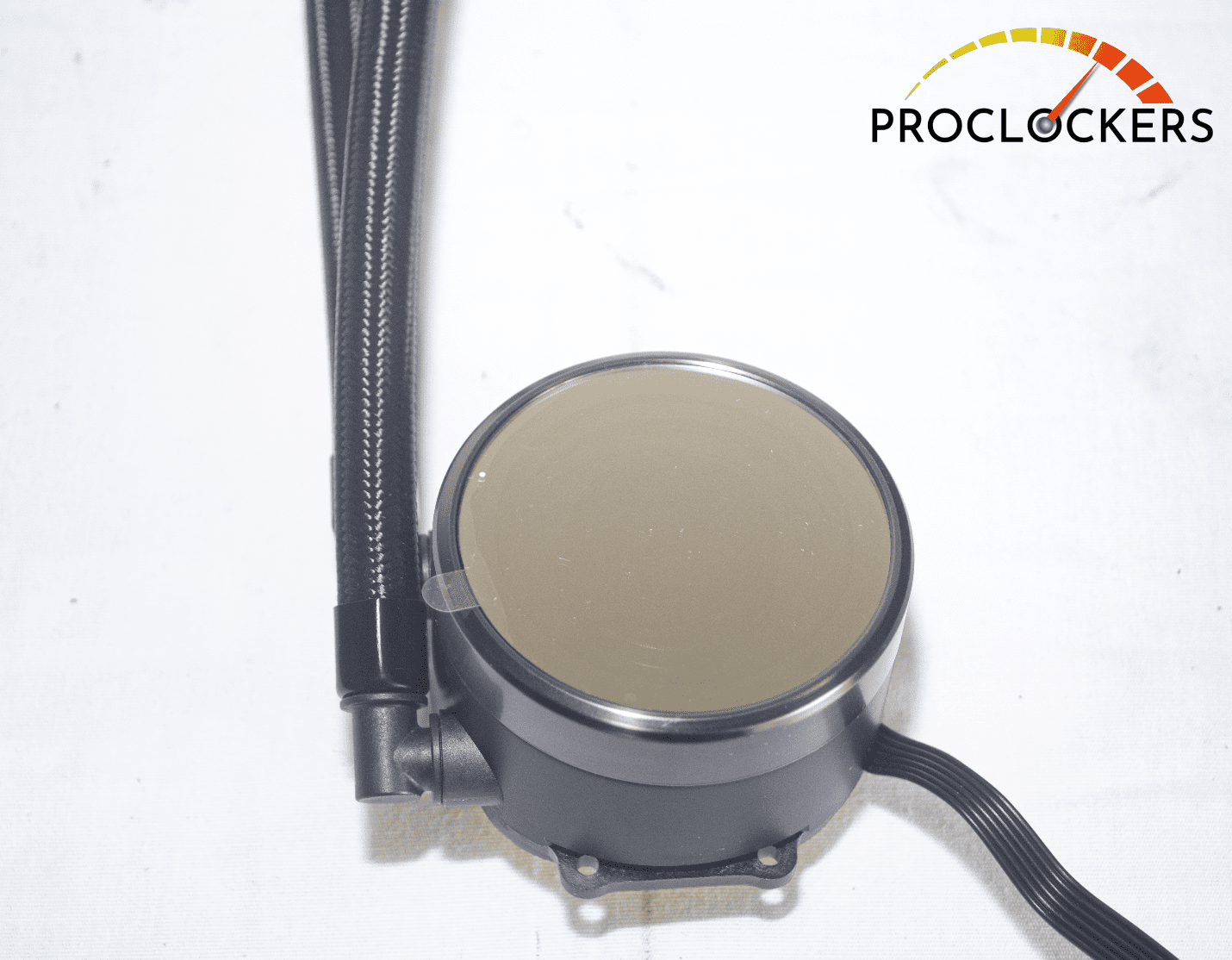 Fan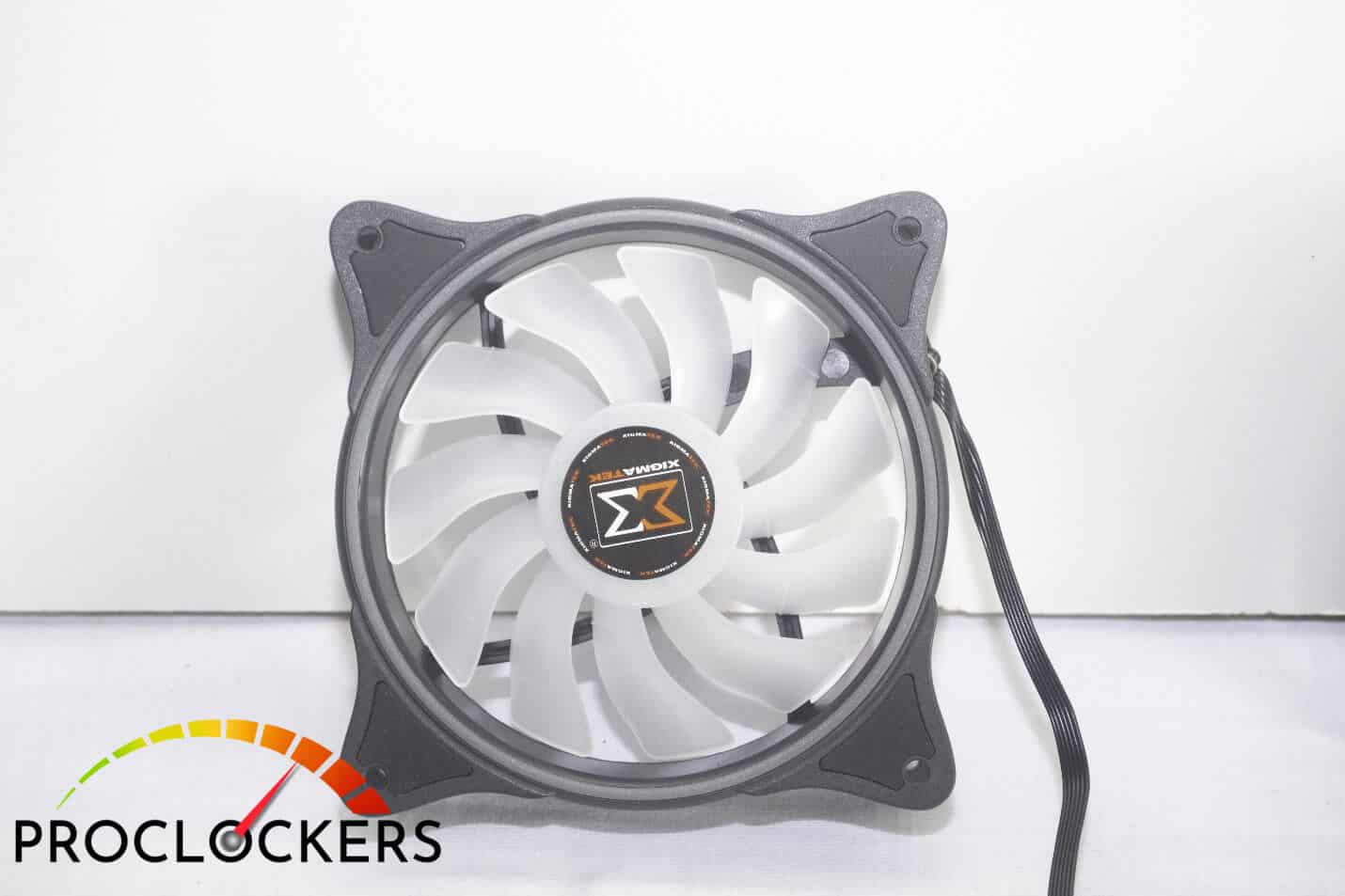 I personally admire the fans Xigmatek has used for the 360 AIO. These 120mm fans can hit speeds of 1800rpm, but push tons of air thanks to its unique fan design. They're rated to push 58.CFM and a static pressure of 2.39mm. We should expect decent idle temps during the cool seasons and maybe higher temps during the summer. With the unique fan design comes Xigmateks own proprietary connection for the fans, which are actually a 6pin layout that won't simply connect to your motherboard. These control the fan and RBG. This is where the first part of the multi-port control box comes into play. These fans offer up some amazing RGB display, hence the need for Xigmatek to make their own connections, which likely saves you from any wire management issues.  We'll talk more about RGB in the next section. Fan speed will be controlled mainly by the buttons on the control box or via remote. Unfortunately, figuring out which fan speed I'm at has been near impossible. ASUS AI suite reports a speed of over 5000rpm…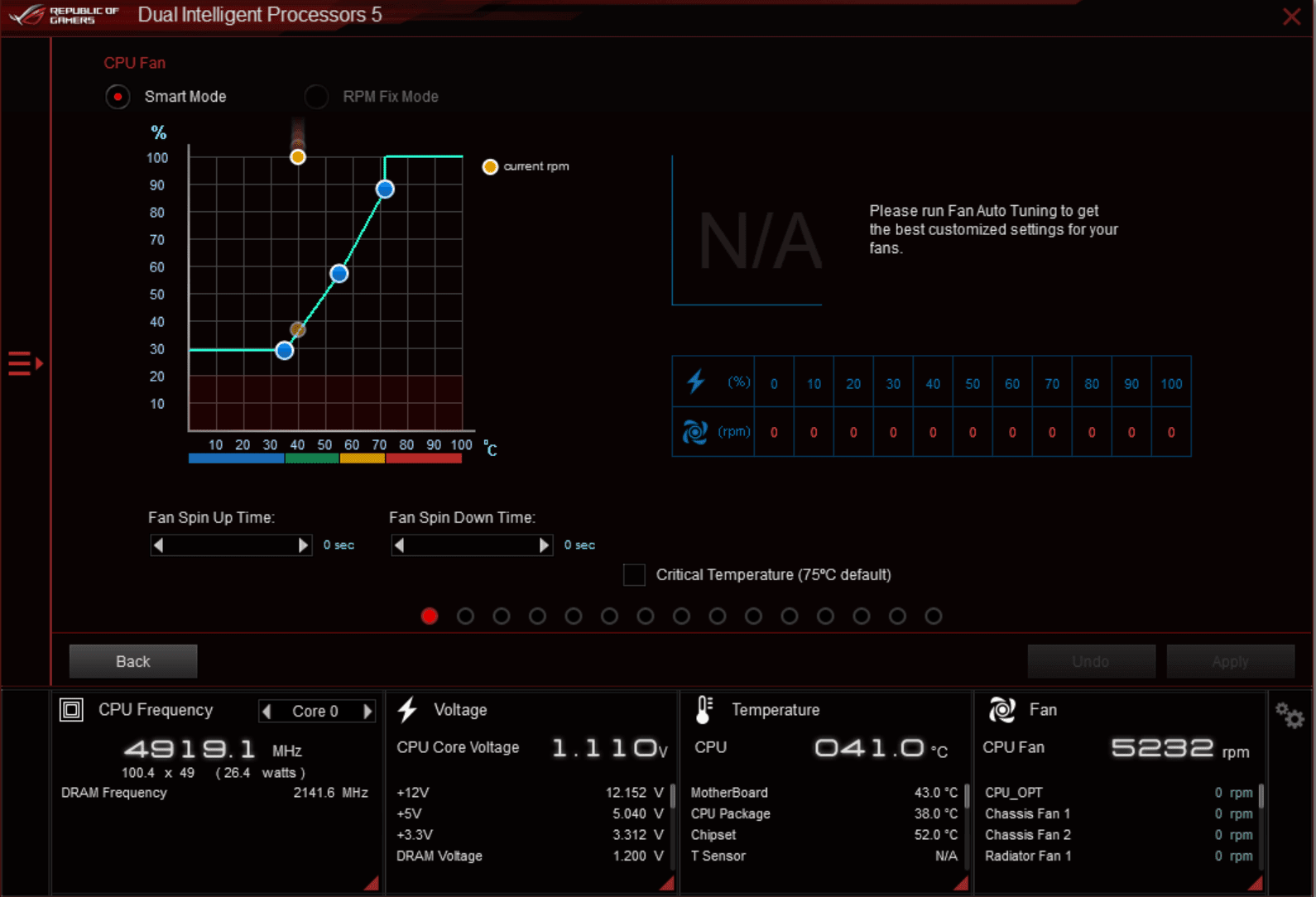 (AI suit set at turbo)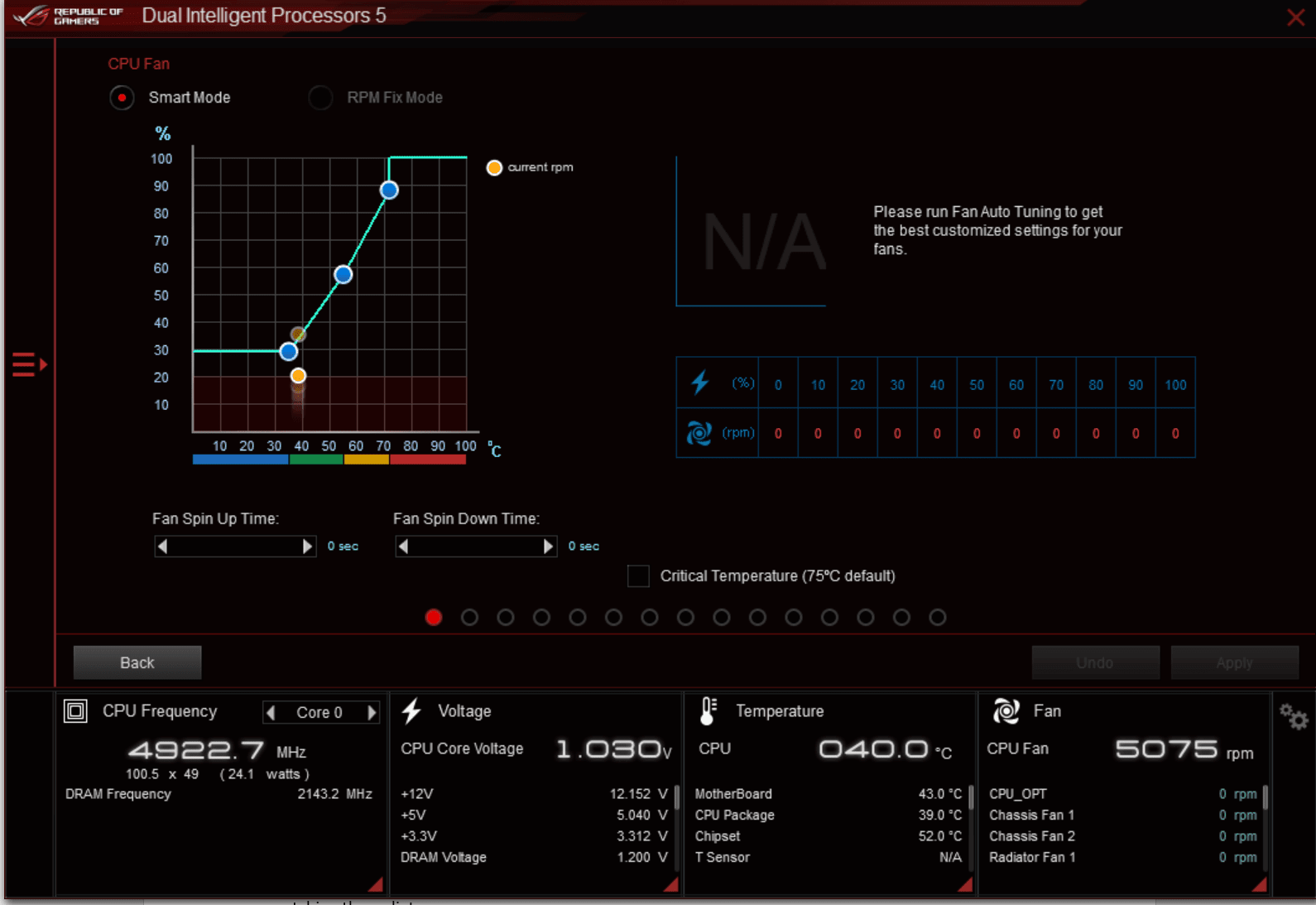 (AI suite set to Silent)
If this were true, I would be able to hear the fans while blaring some Hendrix. But it stays around the 25.4dBA from my perspective. I can only imagine that there is a slight bug in how it reports, since the CPU in fan will actually wire to the pump then to the control box. This leads me to wonder if the fan speed button controls the fans or the pump… or both. There doesn't seem to be a long-term problem though, as fan noise and pump noise are extremely low. The ONLY time I hear my PC (it's on my desk next to the monitor) is during breaks in sound, which is similar to a low hum, but it's enough to know your system is on. Though not really needed at such a low rpm, quality anti-vibration pads on the 4 corners of the fan are a nice touch and do keep the fan from scratching the radiator.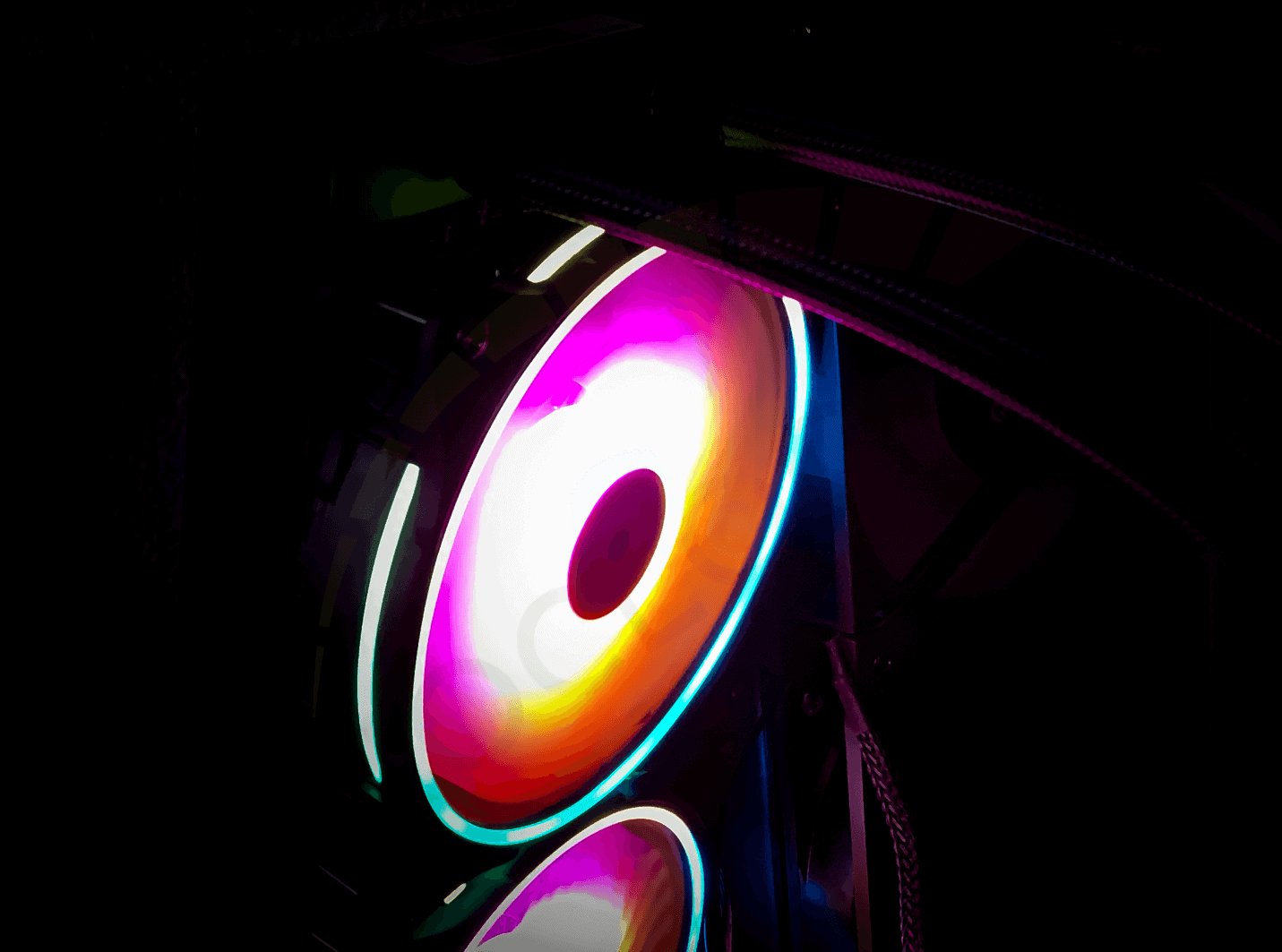 The main feature of this product is the RGB of course. The fans emit beautiful RGB everywhere. These fans contain two light strips, one inside the center fan hub and one around the outer edge. Capable of seven different light modes, the fans incorporate every color in thousands of different arrays. These modes can be chosen through the control box via MODE button or VIA fancy control box controller.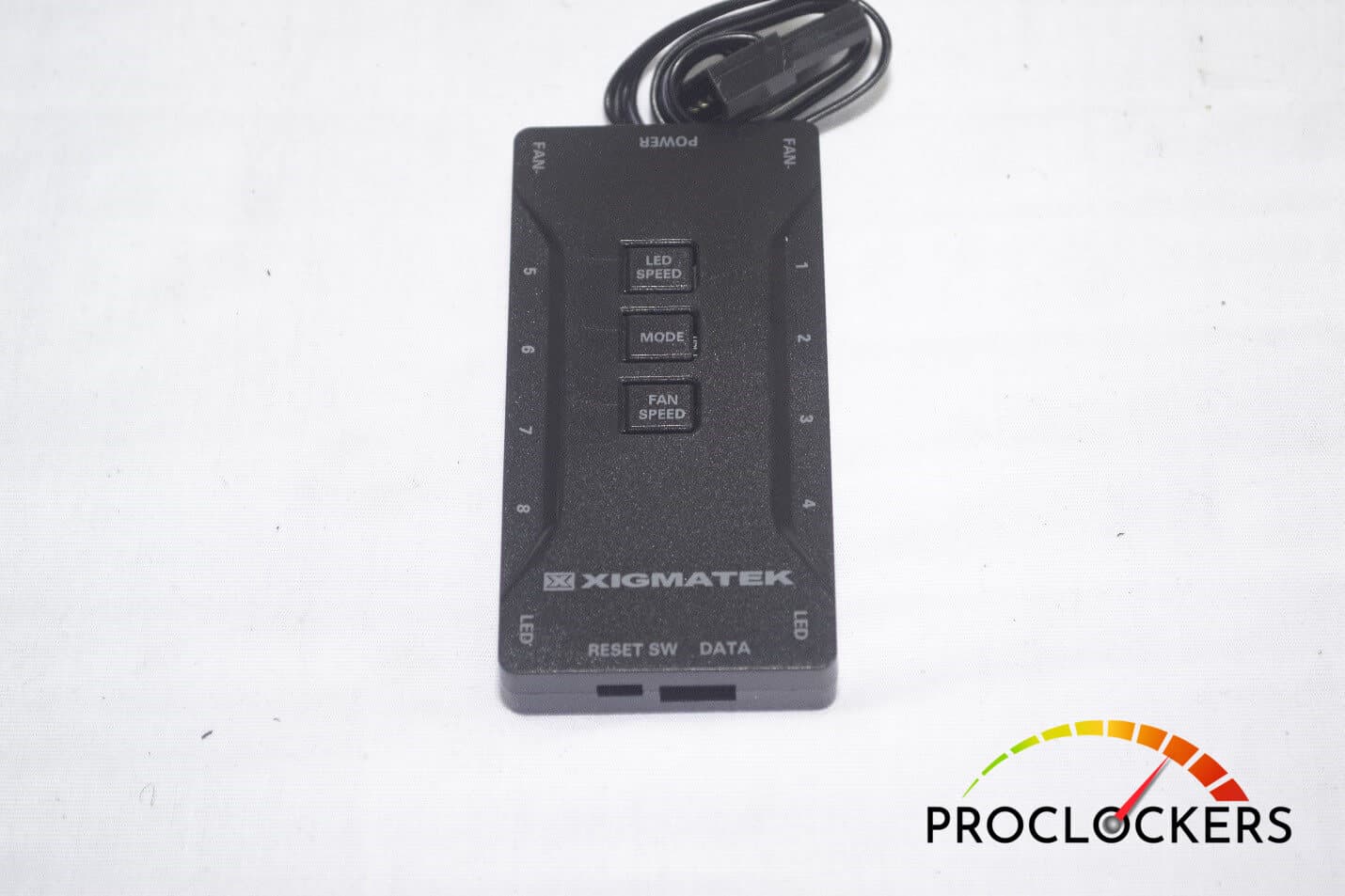 This controller lets you pick between those seven modes and also lets you select alternate modes using MODE+ or MODE-. However, if you aren't feeling any of those, you can also SYNC the RGB up to your motherboard for limitless possibilities. The ability to control the LED speed from crawl to light speeds is a plus for those show-like effects. Fan speed is also controlled by a button, but it's difficult to determine the actual fan speed, and my software is having a hard time pinpointing the fans speed. However, if I had to guess, it would be at max along with the pump running at max as well. A quick note about the RGB modes: modes like "star night" and "lighting" have limited color abilities, with "star night" only appearing to work with RED only. Also, be prepared to supply your own battery for the remote, as I didn't receive one. This remote will require a CR2025 battery.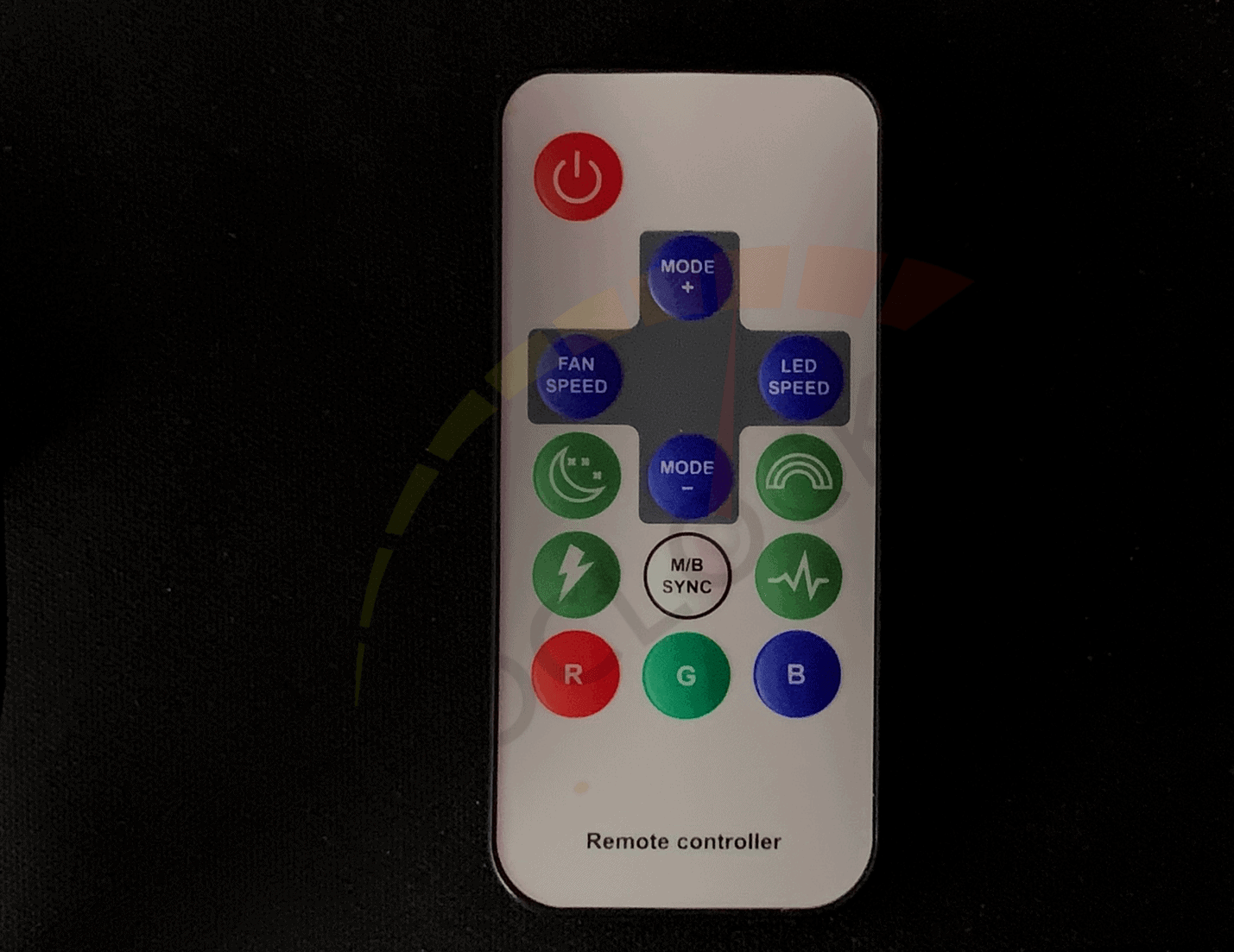 This control box is something different, as you probably got the gist of by now. Powered by 4 pin MOLEX power, taking caution to what's plugged in is a must. The ARGB power consumption has a total of 40W max, on the 12v side you get a max of 36W.  It supports up to 8 fans, though only 6pin, so make sure you have the right fans when adding more. With the LED port, you are able to connect to other ARGB accessories, just keep the wattage in mind. Connecting to the motherboard is done through the DATA port which is a 5v connection. One weird port is the reset SW which connects to your PC case reset button (in case you like to reset through OS). Having this can be convenient for those who have a habit of losing their remote controller, or if you simply want a dope AF reset switch. One thing that would be nice to have for future AIOs, is possibly an indication of what the true fan speed and pump speeds are, as I can't get software to recognize the fan speed. When pressing the FAN SPEED button, it seems that the fan curve is only slight and there isn't a noticeable change in CPU temps when pressing the FAN SPEED button three different times (I Chose 3 as it only seemed logical for fan settings). LED SPEED and MODE are also a part of the control box, although I honestly believe they are not needed if you are supplied with a remote. However, they may be useful for those that have an open bench and would benefit from the buttons.